Supporting Customers
Reflecting on 2020: Our unwavering commitment to provide you with safe, affordable and reliable energy
January 7, 2021
In the face of a global pandemic and severe storm season, 2020 has been a year like no other.
But even during these unprecedented times, ComEd never wavered from its commitment to provide customers with safe, affordable and reliable energy. 
Check out this recap of how, together, ComEd and the communities it serves rose to the occasion to meet the challenges of 2020… and will continue to do so in the new year.
Expanded assistance for customers in need
Financial support during COVID-19
In response to the economic impacts brought on by the COVID-19 pandemic, ComEd suspended service disconnections for low-income customers and those facing financial hardship from March 2020 through at least March 31, 2021. ComEd also added even more flexibility and options to its existing bill and financial assistance programs to help families and businesses struggling to pay their energy bills.
For the second year in a row, ComEd embarked on an extensive awareness campaign to help vulnerable customers identify scams and scam attempts. The campaign, which earned ComEd the designation of Scam Fighter of the Year in June 2020 by Utilities United Against Scams, featured an integrated outreach effort encompassing television and radio interviews, digital advertising and social media posts.
Giving back to communities
Despite the inability to host or attend in-person giving events for most of the year, ComEd employees still came out in force to support the communities in which they work and live. From making masks for their neighbors to participating in holiday toy drives, ComEd employees found creative ways to give back amid the pandemic

To support businesses impacted economically by COVID-19, ComEd sought out opportunities to use small businesses' services, which included sourcing the energy company's hand sanitizer supply from a distillery and using a local printing company to create magnetic, social-distancing signs for its vehicles.
ComEd contributed $250,000 to Chicago Community Trust's COVID-19 Response Fund, created by United Way of Metro Chicago, to support their efforts to provide essential services during the pandemic. About a week later, ComEd joined the Exelon Foundation and Exelon Generation in donating $2 million to the Illinois COVID-19 Response Fund to help Illinois residents impacted by the pandemic.
Commitment to diversity, equity and inclusion
To show its support of nationwide calls for racial equity, ComEd, led by members of its employee resource groups, released statements, a powerful video and a social media campaign showcasing support and love for African American ComEd employees during the height of the summer social injustice movement.
Delivering safe and reliable energy to homes and businesses
Restoration after severe storms
In August, a derecho swept across all of northern Illinois, knocking power out to more than 870,000 customers. Despite it being the most destructive storm in the company's history, crews worked around the clock to restore 540,000 customers on the first day.

Record rain and extreme flooding in Chicago took out power to the iconic Willis Tower. More than 300 ComEd employees, working in conjunction with the Chicago Office of Emergency Management and Communication, the Chicago Fire Department and Willis Tower property management, worked around the clock to restore power to the building. This effort included a team of employees climbing 104 stories to test equipment.
Mutual assistance deployments
On six occasions, ComEd sent crews around the country to help safely and quickly restore power to other communities following hurricanes, tropical storms and other extreme weather.
Providing clean and affordable energy options
The Illinois Commerce Commission approved in December ComEd's request for a $14 million decrease in delivery service charges in 2021, the third rate decrease in a row. The new delivery service rate will lower residential customer bills by about $1 per month. This will result in an average total monthly bill that is less than what it was in 2008.
ComEd customers have saved more than $5.2 billion on their energy bills as a result of the company's energy efficiency program, the equivalent of removing 5.4 million cars off the road for one year and reducing over 55.73 billion pounds of carbon dioxide emitted into the air.
To help customers offset the out-of-pocket costs of installing a qualified renewable energy system such as solar, ComEd paid Distributed Generation (DG) rebates to commercial and industrial customers totaling almost $14 million. Applications initiated and payments pending brings the total amount of DG rebates to more than $24 million.
ComEd received more than 960 Distributed Energy Resource (DER) customer application requests to connect their private generation systems to ComEd's smart grid. Approximately 9,300 systems were activated in 2020, covering more than 9,100 residential customers.
Offering students virtual educational opportunities
To safely bring STEM education to communities that are underrepresented in STEM fields during the COVID-19 pandemic, ComEd launched its STEM Home Labs. The first-ever virtual program provided 100 African American and Hispanic high school students with STEM activities they can complete at home and connected them with ComEd engineer mentors.
For the eight consecutive year, 75 students graduated from the ComEd CONSTRUCT Infrastructure Academy, a job training program that increases the number of diverse, skilled candidates for employment opportunities in construction and engineering in Chicagoland and parts of northern Illinois.
transforming Chicago's Bronzeville neighborhood
The Bronzeville Film Festival
The Bronzeville Film Festival provided students in Chicago's South Side neighborhood with an opportunity to present short documentary films that highlight their neighborhood's history and the role innovative energy technologies play in their community.
Bronzeville Renaissance Mural
Local artists painted a mural on the outside of a ComEd-owned building in Chicago's Bronzeville neighborhood to shine a light on the innovative story of the community's past, present and future. With help from students at Bronzeville's Little Black Pearl High School, this project provided an opportunity for students to learn about the history of their neighborhood.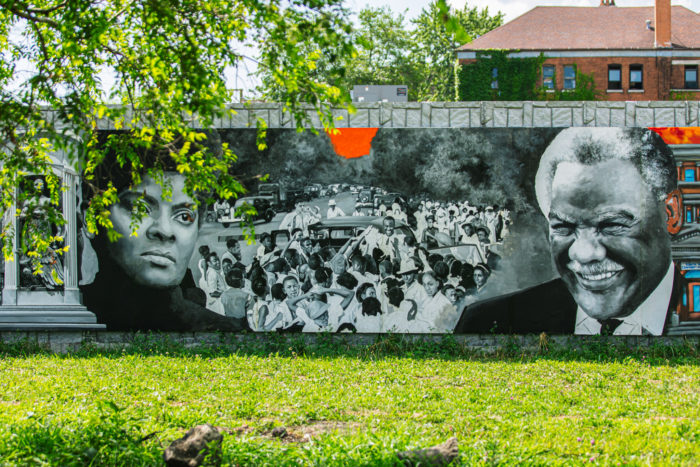 To continue to support families and businesses through innovation and smart energy solutions, ComEd installed two touchless Smart Kiosks in Chicago's Bronzeville neighborhood, providing residents easy access to a WiFi hotspot and important local information. 
Creating innovative, sustainable solutions
For a second year, more than 200 goats took their place among the ComEd ranks for a targeted grazing program, serving as a safer and more sustainable way to clear vegetation in hard-to-reach terrain and helping to ensure reliable power. 
Monarch butterfly conservation
Pollinator Partnership awarded ComEd with the 2019 Monarch Sustainer of the Year Award for its leadership and action in providing habitat and awareness for monarchs along their migratory corridors.