Driving Innovation
Knowledge is power: Internet hotspots enable Bronzeville residents to access important information
November 11, 2020
To provide families and businesses with free, easy access to vital, real-time information, ComEd installed two new touchless Smart Kiosks in Chicago's Bronzeville neighborhood.
Located at the corners of 47th Street and Dr. Martin Luther King Drive as well as 35th and State streets, the interactive 'life-sized' display units will provide residents easy access to a WiFi hotspot and important information including:
Public transportation route tracking
Wayfinding for pedestrians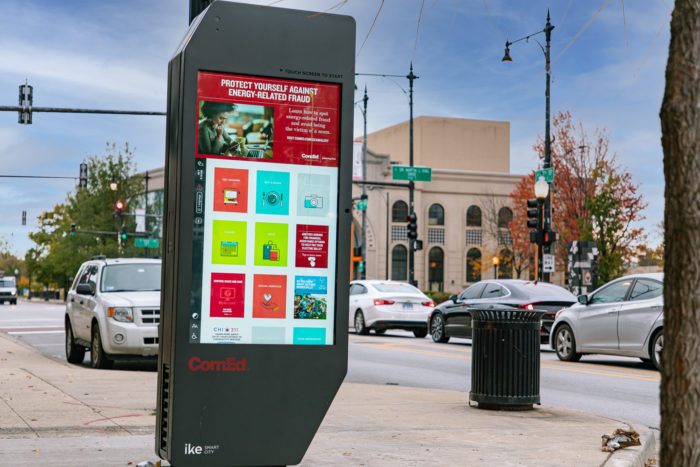 "Innovation like this within the neighborhood of Bronzeville has the potential for a positive economic impact, as local businesses can advertise specials and events via the kiosk, and the novelty of this 'smart-community' technology could increase foot traffic and patronage at local establishments," said Daniel Kushner, manager of smart grid and innovation, ComEd. "Public-access technology like this is a novelty that will soon become the norm. The fact that it is being launched here, in Chicagoland, is putting our service territory and the neighborhood of Bronzeville further on the map, literally and figuratively."
Regularly cleaned and maintained by ComEd, the Smart Kiosks also come equipped with advanced self-scrolling technology, allowing messages to scroll without interactive touch, eliminating the need to physically handle the equipment – especially important now more than ever before.
The Smart Kiosks are part of ComEd's Community of the Future program which is an initiative to implement smart and sustainable energy solutions in urban communities.
"We are excited to demonstrate these innovative technologies in Bronzeville as a launchpad, gathering best practices to explore opportunities to share these technologies in Chicagoland and beyond," Kushner said.