This week, November 14 -20, is known as National Apprenticeship Week, a time designated by the U.S. Department of Labor to recognize the importance of apprenticeship pathways for developing talent in high-demand industries.
Apprentices are needed to address some of our nation's most pressing issues – from building roads and bridges, to delivering high-quality health care and manufacturing lifesaving products, to addressing climate change and the clean energy transition that lies ahead. This year the Biden administration announced its commitment to growing apprenticeship programs across the nation to create equitable pathways to high-paying jobs.
Apprenticeships are often referred to as an 'earn and learn' model, as they provide opportunities for job seekers to develop highly technical skills in the workforce while being paid and don't require a college degree. This creates an opportunity for companies to attract high-quality talent for critical jobs that require dedication to craft as well as specialized expertise – such as the ones held by men and women on ComEd's frontlines.
"At a time when other industries are scaling back on their workforce, ComEd is increasing our craft workforce to prepare for the clean energy transition," said Vito Martino, vice president of distribution operations at ComEd. "As part of our plans to onboard 500 new entry-level craft roles in the next three years, ComEd is committed to growing the diversity of our teams and ensuring that more women and minorities have a chance to apply for high-paying jobs that lead to lifelong careers in the trades."
In recent years, ComEd has been steadily growing its workforce – including announcing a bold plan for hiring 500 entry-level craft workers in the next three years, including overhead helpers and construction workers, who are key to maintaining the grid and the delivery of reliable service to our communities.
The apprenticeship training model is integral to ComEd's growth plans – and the company has invested in growing capacity of its training schools to serve more trainees and to further build out a diverse talent pipeline. In the past two years, the overhead apprenticeship program has nearly doubled, from 68 students served a year, to 140 enrolled in the current year. What's more – the diversity of classes has continued to rise – with nearly half (47 percent) of the 2022 class of entry-level hires being minorities.
"The apprenticeship model is important for ensuring our new hires develop the tools and skills needed to thrive on the job," said Martino. "In addition to having a chance to 'learn while they earn,' new hires get the time they need to learn their craft, receive mentorship from in-the-field leaders, and to obtain certifications needed to excel in electrical and construction roles."
Meet Kevin Mordt, a 19-year-old overhead helper and soon-to-be ComEd apprentice: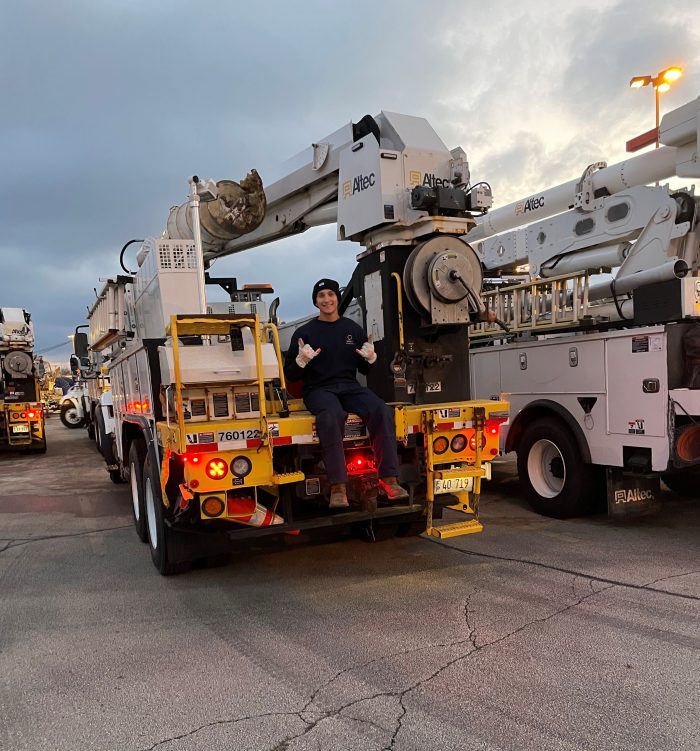 One of ComEd's most recent hires and apprentices in waiting is Kevin, a Poplar Grove resident. He will be starting the 500 Volt School in February, his first out of three progression schools in the three-year apprenticeship journey.
Kevin was first introduced to the trades through ComEd's Tools of the Trades, a summer program where 17-19-year-old students spend seven weeks gaining exposure to trade careers in the energy sector. He heard about the program from his grandpa, who read about it in the paper. Kevin knew that entering the trades, including a program that offered a stipend, was a good opportunity for him as a recent high-school graduate due to financial barriers getting in the way of attending a 4-year college.
"What I took away from this program was more than just learning in a classroom. It made me realize that I could have a future with a good-paying job without having to go into debt for a college degree," said Kevin.
Tools of the Trade opened Kevin's eyes to new possibilities in a field that is poised for growth. When the opportunity arose to join ComEd, he applied for an overhead helper role in November of 2021. Now, he prepares to begin his three-year apprenticeship journey in February.
"I'm very excited to start my apprenticeship. I'm ready to progress in my career, to learn more, and to be able to do more- I am ready for it all," said Kevin. "Linemen work hard and are brave for working in dangerous positions to make sure people don't go without power. That is inspiring to me, and I hope that one day I'm able to call myself a lineman."
"Working with ComEd, we are committed to building a diverse talent pipeline to prepare the growing numbers of clean energy jobs in Illinois. By expanding access to our apprenticeship training programs, we're working to invite more men and women of all backgrounds to learn a skilled trade that will be critical to powering communities, and the economy, for years to come," said Terry McGoldrick, President of IBEW Local 15. 
To learn more about creating clean energy jobs, visit www.comed.com/cleanenergyjobs.