This summer 25 high school students, 17 to 19 years old, participated in the ComEd Tools of the Trade program where they spent seven weeks gaining exposure to careers in the energy sector. The program included ComEd guest speakers, hands-on projects, site visits, and professional development classes at ComEd's Chicago and Rockford training centers.
The summer experience culminated with their graduation on Aug. 11, as they prepared to take next steps in their journeys in the trades.
One of the graduates, Demone Hall, a 19-year-old from West Lawndale and Chicago Tech High School graduate, reflected on his experience following the training he received this summer.  
"My experience has been amazing; I've met amazing people from all over Chicago and Rockford. I learned how to safely use tools, gained career development skills, and learned about career paths available in the trades," said Demone. "I've also learned more about all the career opportunities available in the trades."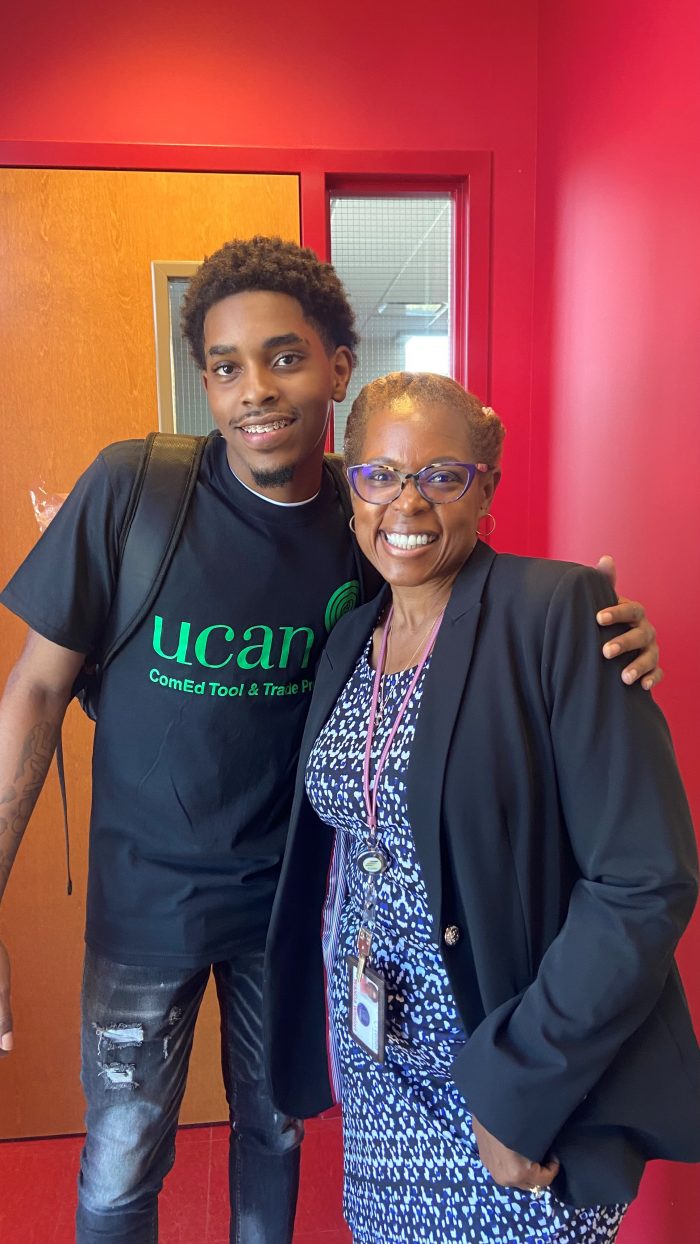 The oldest of six, Demone joined the program because he always had an interest in building and working with his hands since assembling toys for his siblings. Now he's on the path to building bigger and better things.
"This whole program inspired me to become a lineman, my plans are to start entry level in construction then move to underground," said Demone.
While many Chicago students spent their summer break at the beach, Demone spent his weekdays investing in his career.  While participating in the Tools of the Trade classes every Monday through Friday from 9 a.m. to 2 p.m., he also held a part-time job at Chick-Fil-A, working the dinner shift.
"Splitting my time at Tools of the Trade and Chick-Fil-A was easier to manage once I got to know everyone in the program. This summer has not been boring for me at all. Coming to the training every day was almost like a privilege because it was something I looked forward to. It made me feel like I was doing something I wanted to do."
Now that he has graduated from Tools of the Trade, he plans to continue pursuing the trades by taking the Construction and Skilled Trades (CAST) exam and getting OSHA certified.
When he first started the program, his CAST practice score was 49. By the end of the program, his score had gone up to 81. That gave him the confidence to know he was on the right track. His advice for other students out there? Give Tools of the Trade a try.  
"Take advantage of the opportunity. It opens the doors to a lot of new experiences, and you get to meet a lot of new people," said Demone. "Many don't know about the trades and about what ComEd has to offer, so try to use this time to expand your knowledge on the trades."
Tools of the Trade connects high school students from diverse communities with career training in the trades and teaches them how to safely work with tools. Since the program started in 2016, 108 students have graduated from cohorts in Chicago and in Rockford.
"An introduction to the trades and how to use current tools can be life-changing for students at this age and spark an early interest in the exciting field of energy," said Terence R. Donnelly, president and COO of ComEd. "As ComEd works to promote a more sustainable, clean energy future for the 9 million people we serve in northern Illinois, we are committed to ensuring it includes equitable opportunities for our communities. Through programs like Tools of the Trade, ComEd is preparing a new generation of diverse and bright young leaders to pursue family-sustaining careers."
To learn more about the program email ExternalPrograms@ComEd.com