Empowering Communities
The Amazing Race: How Building Electric Go-Karts Changed 30 Girls' Lives
August 18, 2022
Excitement was in the air on a hot Saturday afternoon when a group of all-female teams  — with names like Teal Turbo, Yellow Spark and Violet Vortex — raced laps around a race track on electric  go-karts they built themselves.
The 2022 ComEd EV Rally held at the Museum of Science and Industry wasn't just any go-kart race. For the 30 girls who participated, the August 6 event provided a life-changing opportunity to learn about engineering, sustainable energy, computer coding, and much more.
The female-only race has changed since it first began in 2014 — initially known as the Icebox Derby where participants made solar-enhanced go-karts from recycled refrigerators. After a two-year lapse due to the pandemic, the 2022 participants of the inaugural ComEd EV Rally spent two weeks together building their battery-powered cars.
"Before the ComEd program, I didn't realize things like this were available for girls," said Michelle Perez, 2018 Ice Box Derby Alumna who served as a judge at this year's event. "Usually when you see something like this, it's always boys who are involved. But when I was in the program, and met the girls who were involved, it made me want to do something in STEM [science, technology, engineering, and math]."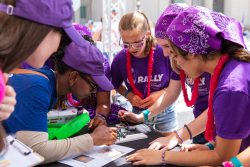 Michelle went on to pursue a major in engineering at the University of Illinois because of her experience with ComEd's Ice Box Derby.
This experience can give girls a necessary boost in a field that has been historically male dominated: Women make up 50 percent of the workforce, yet hold only 27 percent of STEM-related jobs in Illinois, according to a study by the Illinois Science & Technology Coalition.
The girls were cheered on by actress Xochitl Gomez, who gave words of encouragement during the event. "Actions speak louder than words, and these girls are just doing it, and I'm very proud of them," said Gomez, who currently stars as superhero America Chavez in Doctor Strange in the Multiverse of Madness.
After a couple of intense laps around the track and some bumper-to-bumper action, teams Teal Turbo and Orange Flare went head to head to vie for title as 2022 EV Rally champions.
While Orange Flare blasted past Teal Turbo on the track during the first lap, the quick thinking of team Teal Turbo gave them an advantage when it came to answering their STEM questions. During their pit stop they had to solve math and science questions like: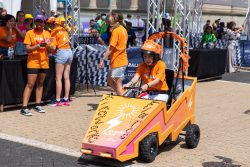 1.In the United States, how much electricity is currently generated using zero-carbon fuels such as nuclear energy and renewables?
2.An EV is driving to the museum. Due to traffic, the STEM student must put on the breaks. If the initial velocity is v1=25m/s and it takes 4 seconds to slow down to v2=5m/s, what was the EV's average acceleration? A = (v2 – v1) / Δt
*See the answers at the end.
After finishing the STEM quiz, Teal Turbo hit the track for the last lap with Orange Flare close behind. Teal Turbo crossed the finish line first, securing their victory!
Each participant also received a $2,000 scholarship for completing the program, and numerous opportunities to network with ComEd engineers and peers.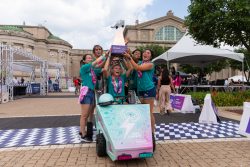 During the two weeks they spent building their go-karts, the girls were visited by women engineering leaders, including:
Kate Biberdorf, chemist, science entertainer, and professor at The University of Texas
Michelle Blaise, ComEd SVP Technical Services
Carla Frieh, ComEd VP Transmission and Substation
Cheryl Maletich, ComEd SVP Transmission and Substation
Ashley Walker, planetary astrochemist and science communicator
The move to electric vehicles is one of the ways ComEd is advancing beneficial electrification to combat the challenges posed by climate change, and build healthier, cleaner communities.
The event is one part of ComEd's array of STEM education and technology initiatives, which are helping develop a workforce that reflects the communities that the energy company serves. ComEd is committed to encouraging young women to pursue STEM education continues throughout the year. The energy company hosts a variety of STEM programs including, Energy Action Team, STEM Never Stops, STEM Home Labs, and Youth Ambassadors.
For Ana Manzanares, a ComEd engineer and program mentor, the EV rally is a chance to serve as a role model for girls who might otherwise not pursue the field of STEM work. 
"Working as a mentor means I can be there for a younger girl who might see themselves in me. I'm Hispanic, I'm a woman, and I didn't have much exposure to STEM careers," Manzanares said. "I wasn't even planning to go to college, but now here I am. So, I want be able to give them that hope that, 'Hey, somebody who looks like me, or that has the same background as me, can do this."
To stay up to date for all of ComEd's free STEM programs sign up here.
Answers:
1. Over 40%
2. Acceleration = 5 m/s – 25m/s =  -5 m/s^2
                                     4s