Advancing Clean Energy
ComEd's CONSTRUCT program yields bright energy futures for recent graduates!
September 1, 2022
Where there is a "Will," there is a way! That's the case for recent CONSTRUCT Infrastructure Academy graduate, Margaret Aguilar, an Albany Park resident.
While scrolling through Facebook one night, Margaret noticed an ad that promoted ComEd's CONSTRUCT Infrastructure Academy, a job training program designed to prepare a diverse and local talent pool for careers in the fast-growing utilities and construction fields.
At the time, Margaret was working the night shift at a fast-food chain and looking for a job change that provided career growth opportunities and had better hours that allowed her to enjoy the life of a typical 20-something-year-old.
"Prior to CONSTRUCT, I didn't have exposure to the trades. That was something that was never brought to my attention. But I fell in love with it and realized there are different paths to having a successful career," said Margaret. "Now I have been promoting this career path to my family and friends. It's a really great opportunity and I'm so happy to have been given the chance to experience it firsthand."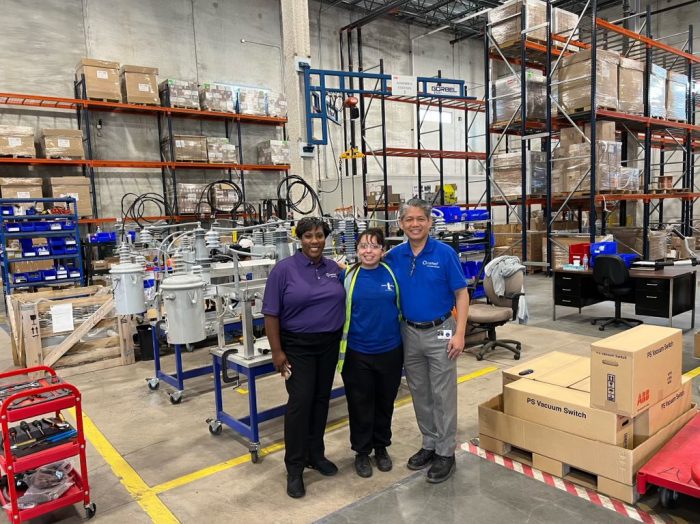 She now works a full-time job for Lyons View Manufacturing & Supply, Inc., a Chicago-based electrical manufacturer that is promoted by The Will Group, Inc., where she serves as an assembler putting together ComEd pole mounts used to hang electrical equipment on poles. The Will Group is one of ComEd's 40-plus CONSTRUCT program sponsors committed to supporting training and partnering with ComEd to place successful program graduates. The local, family-owned firm is also a ComEd diverse supplier, playing a key role in producing smart LED light fixtures, capacitor banks, and electrical distribution equipment that can be found powering projects all across the city of Chicago and beyond.
"It's amazing to see my work firsthand on poles while traveling throughout the city. It makes me feel almost like a superhero because my work is helping bring electricity to people," said Margaret.
Margaret discovered early on in her CONSTRUCT training that The Will Group was a place she could see herself. She, along with her classmates, visited The Will Group's new state-of-the-art manufacturing facility in the "K-Town" neighborhood near North Lawndale for a job shadowing day. She was inspired by the work she saw and took a chance on herself by leaving her resume at the front desk.
The Will Group's COO, Jessica Ashley Garmon, took notice of Margaret's ambition, and immediately following the CONSTRUCT graduation, offered Margaret a job.
"At The Will Group, we prioritize hiring from within the community and based on referrals. For us it provides an incredible resource of diverse and local talent, but it also helps give back to the community that has made our company what it is today," said Jessica.
For The Will Group, hiring diverse candidates has always been a cornerstone of the business' mission.
The company was named after Jessica's grandfather, William "Will" Edward Davis, who experienced firsthand the oppression and racism of the Jim Crow south. In spite of that experience, Will embodied the values of integrity, pride and hard work, which are the guiding values that The Will Group instills in their employees today.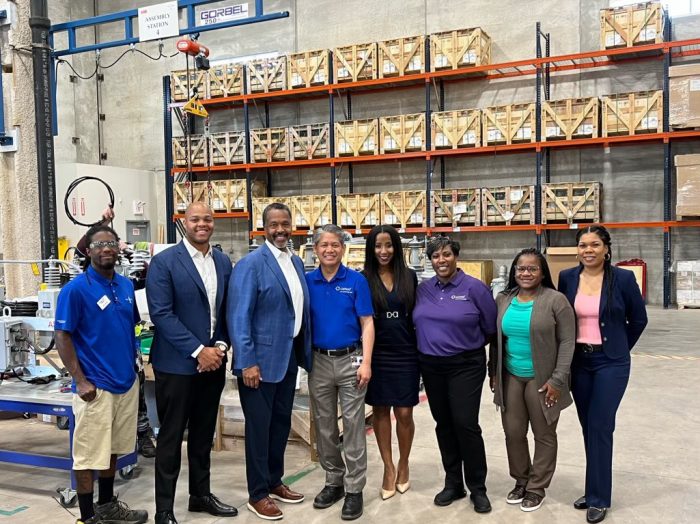 "The Will Group is proud to partner with ComEd on the CONSTRUCT program, which has played a key role in preparing workers to take on jobs at our growing company. This program is training workers with the technical expertise needed to succeed in our fast-changing field.  We share the CONSTRUCT program's commitment to diversity and inclusion and look forward to supporting future CONSTRUCT cohorts that will lift up more of our communities and provide the highly skilled talent pipeline that businesses like ours need to thrive."
Since joining the CONSTRUCT program as a sponsor in 2022, The Will Group has hired three CONSTRUCT graduates, including two from the '22 graduating class alone. They are in good company – with eight other local companies extending offers to 14 CONSTRUCT grads following the spring 2022 graduation.   In fact, the CONSTRUCT program, with over 700 graduates, boasts a 70 percent job placement rate.
"The CONSTRUCT program is a success thanks to the coalition of local workforce agencies and more than 40 employer sponsors, like The Will Group, who are investing in the future of talent to power our industry forward," said Laticia Holbert, workforce development manager at ComEd. "CONSTRUCT has come a long way since its launch a decade ago, and that is thanks largely to partners from across the region who are committed to working in lock step with ComEd to grow this program and unlock new opportunities for residents to pursue careers in our field."
The CONSTRUCT program will start recruiting again in the fall – and will play a key role in upskilling more local talent who want to play a role in the trades and the transition to clean energy. Those interested in learning more about training opportunities can visit ComEd's careers page, www.comed.com/cleanenergyjobs, or email WorkforceDevelopment@ComEd.com.
To anybody considering changing careers or just starting out to pursue a future in the electrical trades, Margaret has some final words of encouragement.
"To anyone out there who has a dream or a goal, and if they're uncertain about it, I would love to quote the best company; 'If there is a will, there's a way' and as long as you have it in you, anything is possible," said Margaret.