Empowering Communities
ComEd Celebrates 10-Years of the CONSTRUCT Infrastructure Academy with 69 New Graduates
May 2, 2022
Cheers erupted in the Isadore and Sadie Dorin Forum at the University of Illinois Chicago (UIC), as 69 local residents graduated from the CONSTRUCT Infrastructure Academy, a job training program designed to prepare diverse and local talent pool for jobs in the fast-growing utilities and construction fields.
"Each and every one of you will play a key role in propelling a stronger future for our community," said Gil C. Quiniones, CEO of ComEd, as he addressed the graduating cohort.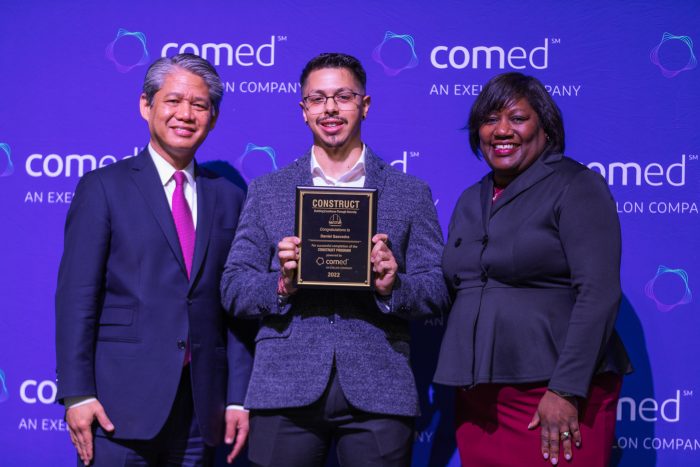 Now in its 10th year, the CONSTRUCT program has provided skills training to help over 700 participants from diverse backgrounds to successfully complete the program and prepare for careers in well-paying trades jobs.
Calumet City native Leejohn Johnson was part of the inaugural class when it was known as the Construction Job Employment Pilot Program. At the time, he was struggling to take care of his family and was searching for an opportunity to take his career to a new level. That's when he found CONSTRUCT.
He began attending classes six-days a week. However, quickly, financial and family pressure took their toll, as his lack of income made caring for his two-year-old incredibly challenging. Nevertheless, he persevered, even bringing his baby to class when unable to afford a sitter.
Leejohn believes he would have quit had it not been for the support of the mentors in his training program, who he credits with giving him the faith to continue pushing forward, even when he didn't believe in himself.
"This program changed my life 10 years ago," Leejohn said. "The information you learn in CONSTRUCT is invaluable and it has the ability to take you and your life to another level."
Now, in his ninth year of working at ComEd, Leejohn is an overhead lineworker, earning a salary and benefits that allow him to provide for his family and encourage others to take the same risk that he did so many years ago. He's proud of the work he does in his community, and that he achieved full journeyman lineworker status.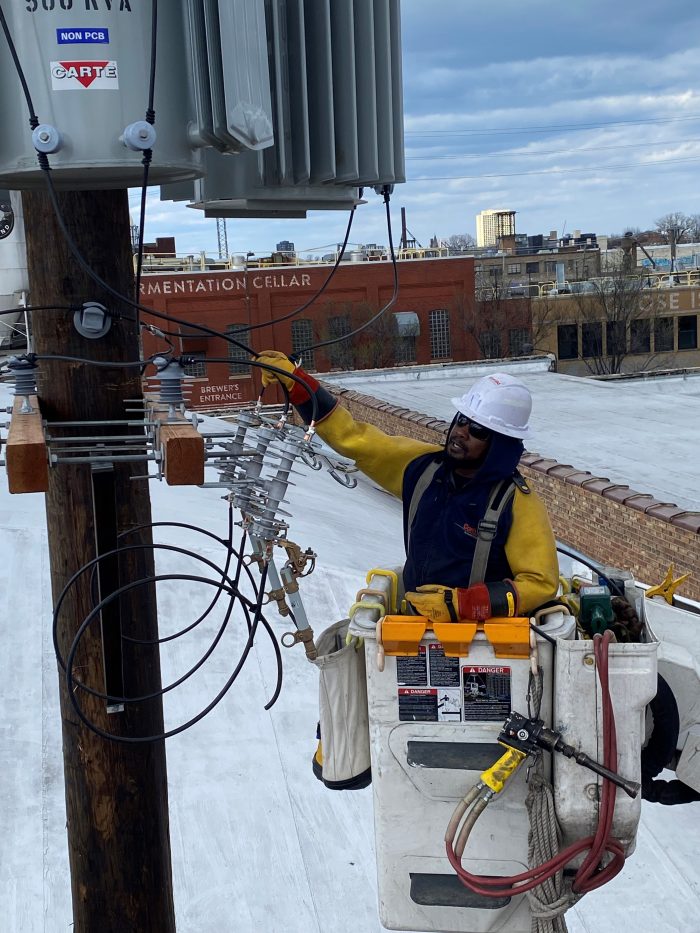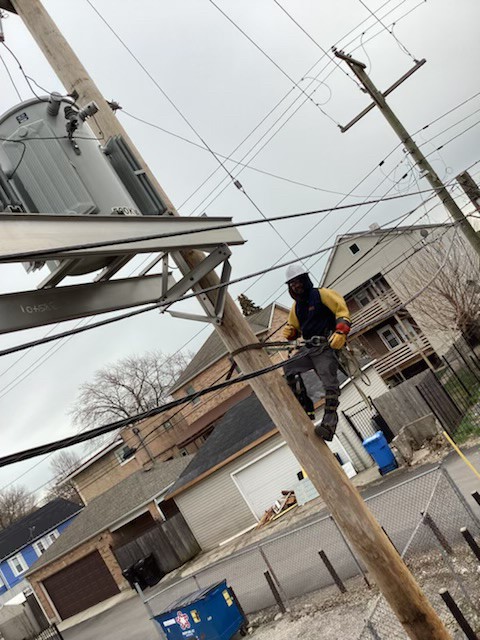 Leejohn's story is one of 700 people who have benefitted from CONSTRUCT and used it to build their career, and support their personal life. Now, the newest cohort of 69 graduates will follow in the steps of those who came before them as they too are now prepared for a job in the skilled trades.
ComEd partners with one local organizations and 40 corporate partners to recruit students, deliver training and to create pathways that lead to full time employment. CONSTRUCT exposes participants to everything from learning innovative solar and energy efficiency technologies – to learning the construction trades.
During this 11-week program, participants walk away with the skills and industry certifications needed to obtain family sustaining careers in the industry. In fact, many of them do – with a 70 percent plus job placement rate.
"Our ability to deliver clean, reliable and resilient power for the 9 million people we serve requires a strong and well-trained workforce," said CEO Quiniones. "Through our continued investments in CONSTRUCT, ComEd is working with a coalition of partners from Chicago and the region to prepare diverse, local talent for good paying jobs that will help us meet new demands and transition to a clean energy future."
Recruitment for the next CONSTRUCT class will begin in the fall, and training will begin in February of 2023. CONSTRUCT participants must be at least 18 years old with a high school diploma or GED equivalent and a valid driver's license, and able to pass a background check and admission interview. Check back for updates on CONSTRUCT and other job training programs at ComEd.com/CareerTraining.