Every day is an opportunity to celebrate and embrace what makes us different. That's especially true today, on National Diversity Day. Nicole Durham, vice president of diversity and inclusion at ComEd parent company Exelon, reflects on why diversity and inclusion are critical to individual and organizational success.
ComEd: How do you define diversity and inclusion?
Nicole Durham: Diversity is the characteristics, traits and differences that make us uniquely who we are. Inclusion on the other hand is a sense of belonging that allow you to be your true self. Diversity and inclusion are a package deal, it isn't enough to have one without the other.
ComEd: Why is diversity and inclusion important at work?
Nicole Durham: Today, we live and work in a competitive environment with a high demand for talent. We need diversity of thought, background and experience to drive innovation. As a company, ComEd needs to attract and retain diverse talent to compete in our ever-changing industry and deliver better services and solutions for customers.
ComEd: How does ComEd encourage its people to be their authentic selves?
Nicole Durham: I give tremendous credit to ComEdu2019s CEO, Joe Dominguez, and his senior leadership team for continuing to make diversity and inclusion a priority for the company. The leadership team is the most diverse in Exelon, and culture is always top of mind for them.
ComEd: How can people embrace diversity and inclusion at work?
Nicole Durham: The simplest way to embrace diversity and inclusion is to start by caring about the employees and team members you interact with. It's about creating connections and taking time to get to know one another. Diversity and inclusion can't be accomplished overnight. It's a journey, and we must embrace the challenges and enjoy the ride.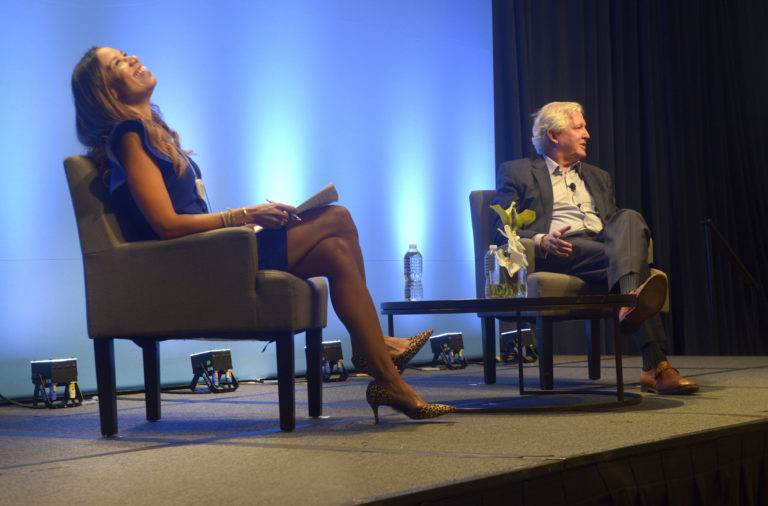 Nicole Durham, Exelon vice president of diversity and inclusion, joined by Chris Crane, Exelon president and CEO, at Exelon's Women's Leadership Summit.