Lineworkers are a tremendously valuable part of ComEd, as they play a key role in our ability to deliver reliable and affordable power to our customers. In addition to installing new smart grid technology and conducting everyday system maintenance, lineman serve as first responders in emergencies. This dedicated group is on the clock 24 hours a day, 7 days a week and is called into action during challenging weather conditions to keep power flowing to your home and business.
"We thank our lineworkers, as well as all our field employees who contribute to operating and maintaining the flow of power to more than nine million people across the areas ComEd is privileged to serve. These are the folks who climb poles, go underground and travel across northern Illinois to ensure that, when we need power, it's there for us," said David Perez, ComEd's senior vice president of Distribution Operations.
Each year during National Lineworker Appreciation Day we recognize the heroes who help power our homes around the clock, like ComEd lineworkers Andrea Simmons and Gil Avalos:
Andrea Simmons is currently a line crew leader, in which she oversees, supervises, and participates in the installation, maintenance, and repair of distribution overhead systems. For Andrea, climbing poles and working with energized high voltage lines is part of her day-to-day job.
She has been in the energy industry for 11 years and loves every minute of it. "This may sound cheesy, but I feel like a superhero sometimes. Being in this line of work means being able to do the impossible. A lot of people don't want to do what we do. They don't want to have anything to do with the amounts of electricity we deal with daily. But at the end of the day, it's a rewarding feeling to be able to execute something that you know is a necessity for everyone to live and thrive."
What motivates Andrea to do this job? "I fell in love with something I didn't even know existed. When growing up, most people think about becoming a doctor, nurse, or a police officer. I didn't even know the position of a lineman existed, so I do it because it's a challenge, and it's a career for innovators and thinkers, and I do it to simply Power Lives." said Andrea.
Delivering electricity to the community is impactful and fulfilling. Andrea said, "Anytime you're able to help somebody in need, at least for me, that's the highlight of my day."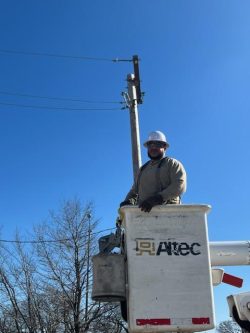 Gil Avalos has been a lineworker for ten years. Like Andrea, he serves as a crew leader, where he supervises and maintains electric power transmission, working around the clock.
Gil's days are never dull. "It's a great career and it could be hard at times. You must be committed to working long hours and you must be physically strong. It's dangerous work and you need to be committed 100 percent to your safety and the safety of everyone on the crew. It takes a certain kind of person to be a lineworker," said Gil.
Gil's culture plays an important role in his everyday drive, "I do it for the community and especially for my family. I do it because I love it, I'm passionate for what I do."
Gil feels being a lineworker is one of toughest, most admired professions. "The best feeling is when we restore the customer's power and we see how happy they are when their lights get turned on, then we get that wave of 'thank you' from the customers."
Rewarded by the pride of achievement, for Gil and Andrea, there's no greater honor than to earn the title of lineworker.
How can you participate on National Lineworker Day?
You can post on social media with #LinemanAppreciationDay to recognize the importance of a lineworker's job.
You can also listen to the song "Wichita Lineman," made famous by Grammy-winning country artist Glen Campbell. The lyrics help illustrate the humanity of the job our lineworkers do to power our lives.
Or, if you would like to be a hero like Andrea and Gilberto, check out opportunities to have ComEd train you to climb utility poles and work underground, with an opportunity to climb the ranks too!