Empowering Communities
We're Walking on Sunshine! ComEd announces the Winners of the Summer Solstice Photo Contest
August 10, 2022
Earlier this year, ComEd launched the second annual Summer Solstice Photo Contest. From June 1 to the Summer Solstice on June 21, photographers of all skill levels were invited to submit photos, taken within ComEd's service territory, of sunrises and sunsets in celebration of the official start of summer and the day that produces the most sunlight.
At the end of the contest, ComEd received a total of 1,632 submissions. Seven judges scrolled through incredible photos of the Chicago skyline, families enjoying the summer weather, sandy beaches and blooming flowers, all with the sun in the background.
The top five winners received an Apple Watch Series 7 and the first place winner also received the grand prize, a private tour for four at the Adler Planetarium.
After careful deliberation, the judges announced the following winners:
Grand Prize Winner - Jarred Nordhus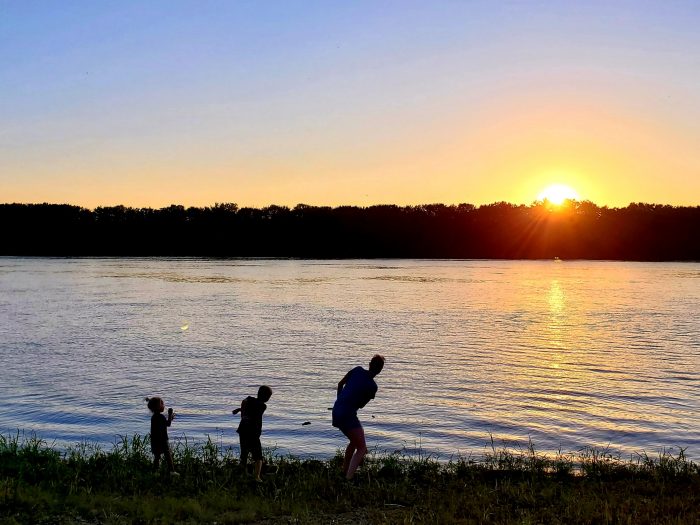 The grand prize winner Jarred from Huntley, IL , shared a photo of his family skipping rocks on the water in Byron, IL. They had gone camping that weekend and were finishing up a hike at the end of the day when the family stopped to enjoy the sunset and some time by the water.
 "The promise of cooking up some s'mores over the campfire was the only way we could get them to leave the water peacefully," said Jarred.
First runner up- Seth Reynolds
Second runner up- Efrain Echandy
Third runner up- Serhii Oher
 Serhii from Rockford, IL, shared the story behind his photo. He was walking home when he saw a butterfly circling a walkway in Millennium Park. In awe of the contrast between light and dark provided by the setting sun, he decided to take a picture. For Serhii, his submission, aptly titled "Sun-Kissed," captures his admiration for sunlight, the living world and everything God created.
"Since childhood, I have been very fond of watching butterflies, I have always been amazed at their beauty and the extremely exquisite selection of colors on their wings. Also, my gaze has always been fascinated by sunlight. Especially at sunrise and sunset. There is something hypnotic and mesmerizing about sunlight, isn't there? Everything that we can contemplate in life is all thanks to the reflected light. Because light itself is invisible to our eyes," said Serhii.
Fourth runner up- Stephanie Pyrzynski
 Stephanie from Tinley Park, IL, also shared a family photo. Stephanie refers to the timing of the photo as the "magic hour," the fleeting lighting that can only be captured at sunrise or sunset.
"Lighting helps tell stories, and with this photo I wanted to capture that happily-ever-after feeling of having found my happy ending. That I'm riding into the sunset with the best adventures ahead of me and our family. Sunset I think evokes that feeling, so it was very important to get the timing right," said Stephanie.
Congratulations to all our winners and thank you to everyone who participated!