Supporting Customers
Weathering the Storm: ComEd's Unwavering Support Help Customers Combat Turbulent Economic Conditions
April 8, 2022
A customer-centric philosophy
"As the provider of a critical service, we're committed to monitoring the changing economic conditions that challenge some of our customers' ability to pay their electric bills and enhancing our range of support options that will keep the lights on," said Melissa Washington, ComEd's chief customer officer and senior vice president of customer operations. "But to help our customers, we need to hear from them. ComEd urges anyone who would like to learn about the assistance options available to get in touch with the ComEd care center or visit ComEd.com immediately – ComEd is ready to assist all our customers."
The turbulence of the pandemic coupled with inflated costs of living created economic challenges for several households—leaving some worrying over how to pay their bills. Remaining steadfast in its commitment to providing safe, affordable and reliable energy to its more than 4 million customers, ComEd offers a variety of bill support options to those in need.
"We have seen an unprecedented increase in the number of individuals seeking help with making ends meet, due to both the pandemic and other world events," said Harold Rice, president and chief executive officer of the Community and Economic Development Association of Cook County (CEDA). "That's why we're committed, more than ever, to leveraging our more than 55 years of operations, education and engagement with local residents, and partnering with organizations like ComEd, to provide high-quality services to families who need them most."
Just a call or click away
ComEd customer service representatives are standing by to help customers understand the assistance options that may be available to them.
"I remember a customer who called in beyond stressed because they received a service interruption notice in the mail," recalled Karen Lebron, commercial clerk, ComEd. "In addition to grieving the recent loss of a loved one, they were battling health concerns that created a lapse in employment, which ultimately left them facing financial hardship. This customer took pride in keeping their bills in good standing and expressed embarrassment with reaching out for assistance. I commended the customer for contacting us and assured them there was no shame in reaching out for help. I explained that our bill assistance options exist for the purpose of helping our valued customers should financial challenges occur, and that I would do everything possible to assist in helping to keep their power on."
Customers shouldn't wait until they receive a service interruption notice to contact ComEd for assistance. As soon as a customer thinks they might fall behind on their bill, they should give the Customer Care team a call at 1-800-334-7661 (1-800-EDISON-1).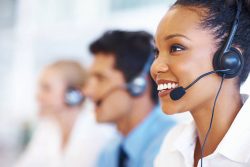 Karen was ultimately able to help the customer. "Together we discovered that a deferred payment arrangement—coupled with a federal program offering—would best suit their specific needs, said Karen."
Through weeps of relief and elation, the customer expressed heartfelt appreciation that ComEd was able to find a solution during a difficult time.
"I am so proud to work for a company that allows us to help our customers," said Karen.
Any customer experiencing difficulty with paying their electric bill is encouraged to call ComEd immediately at 1-800-334-7661 (1-800-EDISON-1), Monday through Friday from 7 a.m. to 7 p.m. to learn more on how to apply. More information is available at ComEd.com/PaymentAssistance.