Empowering Communities
This Thanksgiving, ComEd Employees Fight Food Insecurity in Northern Illinois
November 22, 2022
Thanksgiving is synonymous with an abundance of food—approximately 45 million turkeys are sold each year in preparation for Thanksgiving feasts across America. While it is a holiday to give thanks for their blessings, it can also be a time for people to give back to their communities.
And while many families will return to hosting large, in-person gatherings this year, the pandemic's effects linger. In the last two years, food insecurity has risen sharply and has disproportionately impacted families with children and communities of color, who were already affected by a lack of access to food at higher rates before the pandemic. Food insecurity is defined by the U.S. Department of Agriculture (USDA) as a lack of consistent access to enough food for every person in a household to live an active, healthy lifestyle.
According to the USDA, more than 34 million people, including 9 million children, in the United States are food insecure. Many households that experience food insecurity do not qualify for federal nutrition programs and visit their local food banks and other food programs for extra support.
That is why this year ComEd employees selected food insecurity as their inaugural Cause of the Year and partnered with Greater Chicago Food Depository (GCFD) and the Northern Illinois Food Bank (NIFB) to help mitigate the impacts of food insecurity. All through 2022 employees have volunteered and donated to these two organizations that directly serve the same communities in northern Illinois where ComEd's employees live and work.
To date in 2022, ComEd:
Donated more than $112,000 dollars combined to GCFD and NIFB
Registered more than 550 employee volunteers
Logged more than 1,822 total volunteer hours
For Bradley Schumacher, senior business program manager at ComEd, this cause has a personal meaning. Prior to joining ComEd, he worked in the architecture industry until the collapse of the real estate industry in 2008 greatly affected him and his family. Like many affected by that economic crisis, he experienced financial hardships and could not afford to feed his family of three. That's when he discovered the Northern Illinois Food Bank, which distributed food in his community every two weeks.
"The people who worked the food distribution events were kind, supportive and treated us as equals," said Bradley. "They helped us get through an extremely difficult time in our lives with respect and no conditions attached. I am extremely thankful to have found them when we needed them the most."
Since his first encounter, Bradley has been supportive of the NIFB mission, and in August he joined ComEd CEO Gil Quiniones and 20 other ComEd employees in a volunteer event to pack food.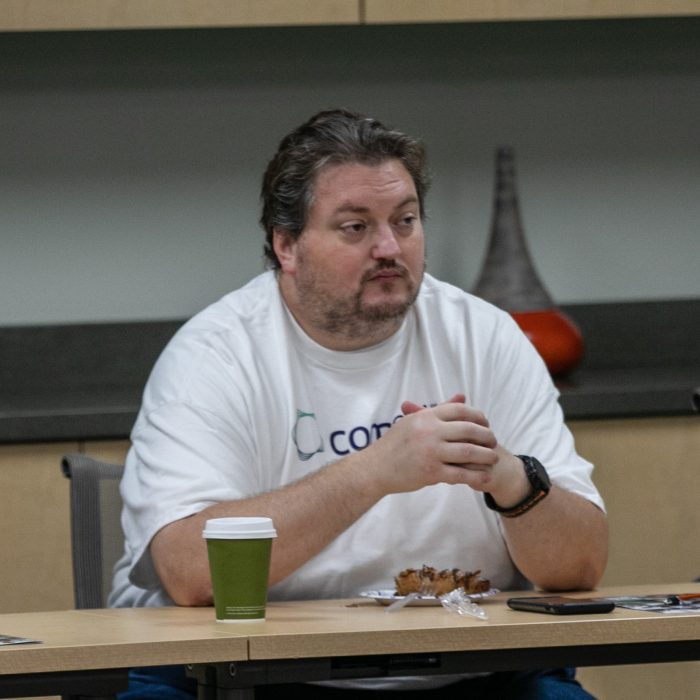 "Now that we have found our footing again, I look to support the Northern Illinois Food Bank whenever possible either with time, marketing or drafting volunteers so they can continue their mission of respectful support of those that need help eliminating food insecurity," said Bradley.
Paying a bill or feeding your family is not a choice anyone should have to make. That is why ComEd offers a variety of income-eligible programs to help customers with their utility bills including payment deferment programs. Use ComEd's Smart Assistance Manager (SAM) tool to learn what programs you are eligible for and visit ComEd.com/HomeSavings for additional tips to save energy and money.
This winter let's work together so no one goes hungry or cold. To help fight food insecurity or to get assistance, visit Greater Chicago Food Depository and Northern Illinois Food Bank.