Protecting northern Illinois families and saving the environment.
These actions, typically reserved for superheroes, are on display at Misericordia, when the creative thinking of the organization's Developmental Training (DT) team turned unusable ComEd items into a revenue stream for residents and free items for the homeless.

In February 2022, ComEd introduced a new logo to reflect its forward-looking vision following the separation of its parent company, Exelon, from its former power generation and competitive-energy business. The move left ComEd with hundreds of thousands of clothing items – including shirts, jackets, hats and gloves – that the energy company eventually needed to remove from circulation.
For customer safety reasons, ComEd cannot simply donate its branded clothing to the public. In some instances, imposters obtain this clothing to pass themselves off as ComEd employees to scam residents out of money and personal information.
Disposing of the items was also not an option considering ComEd's commitment to resource conservation, which looks to reduce, recycle and reuse as many materials as possible to reduce the energy company's carbon footprint and the amount of waste going into landfills.
Misericordia to the rescue
The connection runs deep between ComEd, Misericordia and the nonprofit organization's mission to enhance the lives of those with developmental disabilities.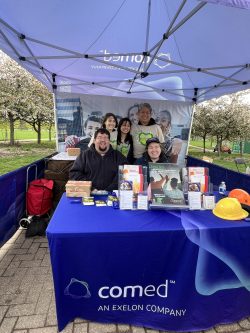 For the past 12 years, ComEd has collaborated with Misericordia on its Energy Force Ambassador Program, the nation's first energy-efficiency education program that helps adults with developmental disabilities to reduce their electricity use and save money—while educating others to do the same. The program, coordinated in part by Michele Ptaszek, ComEd's manager of marketing and customer education, works with local nonprofits to identify and train individuals on creating and delivering presentations designed to help northern Illinois residents manage energy use and save money on energy bills. ComEd provides a stipend to cover each participant's time, costs and materials.
Through this relationship, Michele became familiar with Misericordia's work in having residents find alternative uses for unusable materials and approached Michael Diaz, Misericordia's Assistant Vice President of Community Day Services, about finding uses for the material.
"I was happy to give the work to Misericordia, knowing that they had staff who would be able to manage the project and it would provide meaningful work for its residents," Michele said. "The original ask was to cut the old logo out of the apparel and recycle the material. Then I got the most wonderful call from Michael."
Upon seeing the amount of material left, Danny Wallace, Director of Developmental Training, approached members of Misericordia's art department, who came up with the idea of weaving the material into second-use items. He proposed to Michele that the staff combine ComEd's older red-and-white material to weave together colorful placemats. Then came the idea of weaving larger pieces that could potentially be transformed into mats for individuals who are homeless.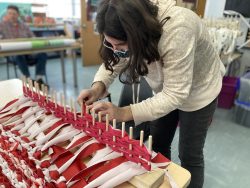 "We would weave fabric from yarn and scraps into purses, scarves, pillows, tote bags, placemats and rugs," said Melissa Barron, art instructor with Misericordia's DT program. "With the ComEd materials, we can cut t-shirts into 'yarn' for weaving on our looms and paint and create designs on fabric pieces. We're creating items to sell for fundraising purposes at Market Days for staff, the Misericordia Heartstrings gift shop and Misericordia's annual Family Fest.
During Covid, Melissa said she had accumulated tons of plastic grocery bags generated from the increase in curbside pickup and delivery.
"I hated the idea of throwing them away and heard of a project where people were creating plastic mats for those experiencing homelessness," Melissa said. "I saved these bags in anticipation of someday creating those mats with the residents."
"We were already working on the plastic bag project when the ComEd materials arrived," Melissa added. "When we completed the plastic bag mats, we switched to using the ComEd materials to create the items for fundraising purposes and the larger mats to hopefully donate in the future."
Today, Misericordia residents continue to help ComEd keep materials out of scammers' hands and out of landfills.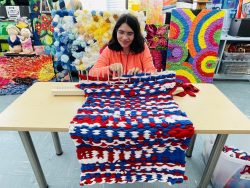 "Instead of all of these materials going to a landfill, we're doing work that is meeting the mission of both ComEd and Misericordia to demonstrate environmental responsibility by recycling and reusing," Michael adds. "It's not only giving new life to these unusable items, its giving residents at Misericordia a chance to expand their skills."
About Misericordia
Misericordia is located on Chicago's north side and supports more than 600 children and adults with intellectual and developmental disabilities. They do this by providing a full continuum of care designed to meet each person's changing needs and maximize his or her independence. Misericordia also offers residential placement on a 37-acre campus with 14 homes in the community as well as employment opportunities and therapy and recreational programs. To donate, learn more or if you seek employment opportunities, visit www.misericordia.org.