Empowering Communities
New ComEd leader reflects on his Latino culture and upbringing for Hispanic Heritage Month
September 16, 2022
Growing up in the US-Mexico border town of El Paso, Texas was a formative experience for Lewis "Louie" Binswanger, who recently joined ComEd as senior vice president of governmental, regulatory and external affairs.
A longtime refuge for Mexican immigrants, El Paso is the place that welcomed Louie's father when he migrated to the US eight decades ago, and where Louie was born. However, it wasn't until he moved to Austin after college that Louie realized that the rest of America didn't look like his predominately Hispanic hometown. He took that to heart and recognized how different cultures – including his own – were viewed in places in which they were in the minority.
"Regardless of what a person's name is, how they look, and where they come from, everyone deserves the same level of respect," Louie said. "Organizations like ComEd need representation that mirrors the community to create equity. Not only is it key for our customers to see themselves in the company that provides such a vital everyday service, but it's the catalyst that will open up doors for more advancement and inclusion within our industry."
Since his early days in Texas, Louie served in a variety of roles working for utilities in Texas, Arizona, Florida, Arkansas, Colorado, and, most recently, overseeing policy and regulatory work at Nicor Gas in Illinois. Each of these experiences shaped how he views his role as a utility leader – and with it the opportunity within this industry to drive policies that work to enhance access and quality of life for all customers, regardless of their background.
Every year, Louie looks forward to celebrating his culture during Hispanic Heritage Month. He recently joined ComEd's CEO, Gil Quiniones, and members of the employee resource group, Organization of Latinos at Exelon, on the ComEd float at the Mexican Independence Day parade in Little Village – one of the largest parades in the Midwest with 500,000 participants annually.
"I am very proud of my heritage, it's who I am and it's how I view things. I always look forward to this time of year because it provides us an opportunity to gather and talk about our background and shared experience that brought us to where we are today," said Louie. "Chicago and the entire region ComEd serves is overflowing with pride, history, and diverse culture. This time of year gives people of Hispanic and Latino heritage the opportunity to celebrate our contributions, and to tell our stories."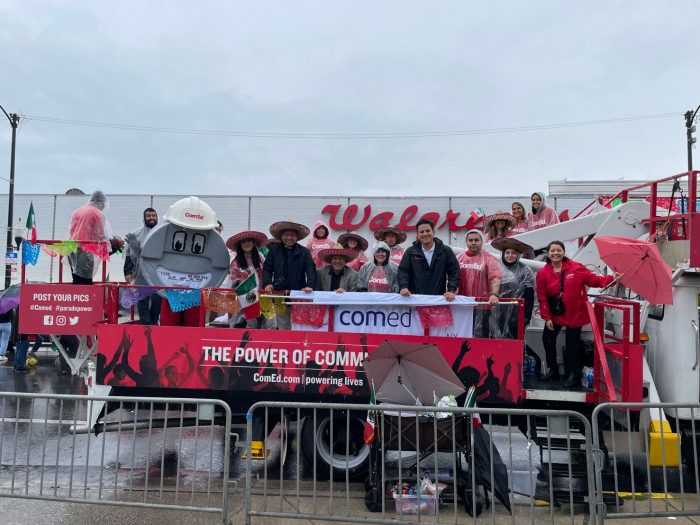 It's not lost on Louie the opportunity he has in this new role to help drive equity for ComEd's 4 million plus customers across northern Illinois.  With the recent passage of the Climate and Equitable Jobs Act (CEJA), Illinois is on the path to bold climate action that will help lower carbon emissions and boost investments in communities to achieve a cleaner future. This aligns with ComEd's new plan to help expand beneficial electrification, including electric vehicles, across northern Illinois communities in the years ahead.
"One of my biggest priorities in this role is guiding our work to implement CEJA – a significant piece of legislation that will give communities who may have been previously overlooked a chance to participate in clean tech, including EVs, solar and the jobs that will come with it as we move to a cleaner and more just climate future," said Louie. "To prepare our communities for this new era, we'll continue on ComEd's track record of building a diverse workforce that looks like our communities and that's prepared to take on these jobs of the future."
In addition to implementing CEJA, Louie's team will explore ways to enhance policy and programs to ensure the needs and interests of all ComEd customer groups are met, particularly as customers face ongoing impacts from the pandemic and current economic headwinds. This includes examining how affordability varies across the 567 zip codes in ComEd's service region.
"We know that not every ZIP code is the same, and each has different needs in terms of affordability. We're looking at how can we take data on specific community areas and use them to enhance policy and programs in a way that more fully recognize the unique challenges communities face as we work to move all of our customers into a cleaner future."
For those experiencing difficulty paying their electric bill, ComEd's customer team provides support with a range of payment and energy assistance options, including the State's Low-Income Home and Energy Assistance Program (LIHEAP), now accepting applications for assistance with utility bills. To learn more, visit  ComEd.com/PaymentAssistance.
To learn more about how ComEd employees are celebrating Hispanic Heritage Month, follow us @ComEd on Facebook, Twitter and Instagram.