The sun is shining, temperatures are rising, and some of us are turning on our air conditioners for the first time. But have you explored how solar energy could lower your bill this summer and help pave the way to a cleaner energy future?
Solar energy has emerged as a game-changer in the global quest to incorporate more environmentally-friendly and renewable energy sources. The sun provides a clean and abundant source of electricity that can lessen our dependence on fossil fuels. And since it is a zero-emission source, it does not cause pollution.
The Magic of Solar Energy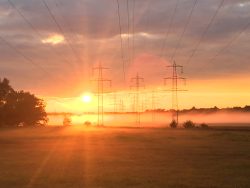 Taking advantage of solar power means harnessing the sun's energy through solar photovoltaic (PV) systems, which convert sunlight into electrical energy.
Solar panels made up of individual solar cells capture sunlight and generate electrical charges that produce electricity.
Starting Your Solar Journey
If you don't know whether solar is the option for you, ComEd provides online educational resources to guide you through your solar journey. By visiting Comed.com/Solar, you can access the following information and tools:
ComEd's Solar Calculator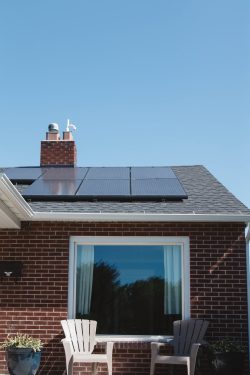 Our user-friendly solar calculator tells you how many solar panels you will need, and the size of the system required to accommodate your electricity usage.
When you access the solar calculator while logged in to your ComEd online account, or use your account number to create an account, you will see an image of your home's roof and will be prompted to verify its accuracy.
The calculator then assesses your solar exposure based on roof size, shape, and obstructions from trees or other buildings.
By factoring in electricity usage, rates, and available state and federal incentives, the solar calculator estimates the required number of solar panels you may need, system size, and the total cost of the investment.
This estimate is helpful for discussing solar panel purchase and installation with contractors.
By incorporating your potential energy-bill savings, the solar calculator can estimate the amount of time it will take before your solar energy system pays for itself through reduced monthly energy costs.
Income-eligible customers may also qualify for more affordable solar installations or community solar subscriptions through the Illinois Solar for All programs.
Community Solar
Community solar enables you to access solar energy without installing panels on your own home. Instead, you subscribe to a solar energy farm consisting of solar panels owned by an independent developer. Solar panels generate electricity, and you can receive credits on your monthly bill for the energy produced by your portion of the project. This allows you and the other residents in your area to contribute to clean generation and reduce your carbon footprint with no need for a rooftop installation.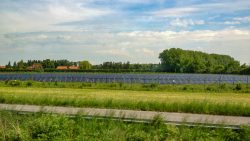 ComEd foresees a significant increase in solar power capacity on its grid, related to both rooftop and community solar systems. In 2022, there was a record-breaking surge in requests from customers seeking to connect solar panels and other distributed energy resources to ComEd's grid solar applications, totaling more than 19,000 submissions from residential, commercial, and industrial customers — a 74 percent increase from 2021.
ComEd's Vision
To sustain this growth and meet the demands of a growing number of solar energy systems, electric vehicles, and other electrification programs for buildings and industries, ComEd is investing in both physical and digital infrastructure upgrades, while ensuring the safety and reliability of its grid for its valued customers.
These plans align with ComEd 2030, the company's recently announced vision for a carbon-free energy future that will benefit all communities and meet customers' changing needs for the rest of this decade and beyond.
"Customers will need easy ways to connect the many thousands of clean distributed energy resources like wind and solar power and battery storage that are coming online," said ComEd's CEO, Gil Quiniones.
"Our commitment is to make sure the benefits of the digital and decarbonized energy future flow equitably to communities with the greatest need. ComEd is one of the very few entities in the region that serves everyone. Because we are a company that operates in the public trust, we have a very special focus on community well-being."
As the demand for renewable energy continues to grow, just keeping the lights on is no longer enough. ComEd's multiyear plans and commitment to helping support a carbon-free energy future will require the company's continuous dedication to harness the power of solar energy. Thorough modern strategies and infrastructure upgrades, ComEd is paving the way toward a more sustainable and environmentally-friendly future for all.