ComEd's commitment to providing customers access to clean, reliable, and affordable electricity means the energy company consistently looks for ways to ensure equitable access to these options for all families and businesses across the areas ComEd serves.
In support of Illinois' Climate and Equitable Jobs Act (CEJA), which centers on equity and puts the state on track to achieve 100% clean energy, ComEd continues to work to ensure customers have the access to information about available clean energy resources, including wind and solar energy.
For customers who generate their own electricity at home using a renewable resource like solar energy, ComEd makes it possible for them to receive credits on their bill when they produce more power than they use. This is called Net Metering.  More than 30,000 ComEd customers have already installed renewable energy sources at their homes or businesses and are taking advantage of net metering, utilizing net metering electricity credits even when the panels are not producing electricity.
"Customers with rooftop solar can participate in net metering, which allows them to receive credits on their energy bill when they are producing more electricity than they are using; the credits from the excess electricity are used to offset electricity usage during periods when they are using more than they are producing," said Marla Westerhold, manager of ComEd's Green Power Connection team.
If you're considering rooftop solar, an early step in the process is to apply for interconnection; this is usually completed by your solar installer. Once this application is approved by ComEd, you will have permission to connect your renewable generation to the electric utility grid and begin generating electricity for your use.
Another advantage of solar energy is that net metering customers are currently eligible for equipment rebates. ComEd provides rebates on the generating facilities, such as solar panels, and on storage facilities. The rebate programs help bring down the upfront cost of solar and storage facilities to encourage participation in the net metering option, courtesy of CEJA. "Illinois has set ambitious and achievable clean energy targets via the 2021 Climate and Equitable Jobs Act, and we are excited to help customers benefit from clean energy as they embark on this journey," said Marla.
Meet Brian & Vicki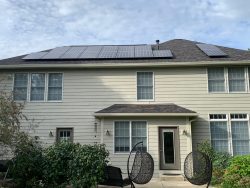 Brian and Vicki, residents from Elgin, IL., have taken advantage of solar energy and ComEd's net metering program. After deciding to install solar panels on their rooftop, the benefits they are seeing are off the grid!
They enrolled in the program in October 2021 and have not looked back. "The solar panels help to ensure we are using clean energy to power our home.  Furthermore, credits for unused energy produced in the summer months helps to offset the additional energy needed in the winter months (through ComEd's net metering program). It is great knowing that making an impact on the environment doesn't need to cost more," said Brian. Not only are Brian and Vicki benefiting from program, but they are also making a big positive impact to the environment by generating their own renewable energy which helps reduce their carbon footprint.
Is the process hard?
"It was really easy. The solar installer worked with ComEd to have the system approved and net metering began with the initiation of my system. The Green Power Connection team at ComEd reached out with helpful information along the way, fully explaining the process and how the billing and credits worked.  It was seamless," said Brian.
Remember, actual annual savings depend upon the amount of electricity you use, the amount of electricity that your panels generate, and whether you own or lease the solar panels. "There is a common misconception that going solar erases all energy bills which isn't the case. For us, going solar was less about trying to save money and more about wanting to do good for the environment without spending more. Net metering helps to makes that a reality," stated Brian.
Net metering is a great way to save money on your energy bill, and it's also good for the environment. To learn more about how to apply to ComEd's net metering program, or to find more information on net metering and solar credits, visit ComEd.com/NetMetering.
###