Hispanic Heritage Month is a time to celebrate the rich cultural traditions of Hispanic and Latino communities, both throughout the areas ComEd serves and across the nation. ComEd's commitment to diversity, equity, and inclusion (DEI) ensures that these values are not just celebrated during this month but are upheld year-round.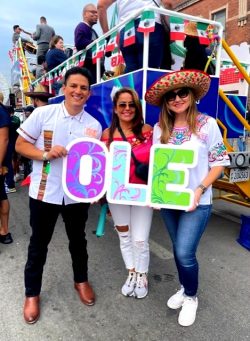 Mexican Independence Parade in Little Village
Grand floats, traditional costumes, and joyful dances filled the 52nd annual Mexican Independence Parade in Little Village, making it a highlight of Hispanic Heritage Month in Chicago. The voices of Chicago residents and revelers from all over rang out with a resounding "Viva Mexico!" as ComEd proudly marched alongside a spectacular electric vehicle (EV) float through Little Village.
For Nelly Davila, manager of billing and the vice president of ComEd's Organization of Latinos at Exelon (OLE) employee resource group — the parade embodies a profound sense of pride, "I felt proud to walk in the Mexican Independence Day parade surrounded by so many people celebrating the Mexican culture — my culture," said Nelly. "My heart felt full seeing the Mexican community come together with their families, kids and even pets dressed for the occasion."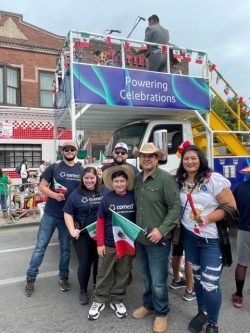 Nelly emphasized ComEd's dedicated commitment to community support, particularly through its involvement in events as vital as the Mexican Independence Parade. "Seeing the ComEd EV float coming through the parade shows our customers who live in the Latino communities that the company is embracing diversity, equity, and inclusion and, simply, showing support," said Nelly.
Amy Ostiguin, assistant program manager at ComEd diverse supplier partner, Surge Staffing Solutions Inc., shared her heartfelt connection to the parade. "The reason I participated in the parade is because I get to reflect on my grandfather's journey from Mexico. He encountered several obstacles when he first came to the U.S. as a migrant worker. His tenacity to succeed allowed him to build the legacy that he left behind," explained Amy. "Being part of initiatives that give back to our Latino communities, including participating in the Mexican Independence Day parade in Little Village, a neighborhood that was my grandparents' first Chicago home, brings me immense joy and fulfillment," added Amy.
Latinos y Mas: The Power in Us
OLE's theme for this year's Hispanic Heritage Month — Latinos y Mas: The Power in Us — highlights how the Hispanic and Latino community has helped to power the country and move it forward. It also embodies how ComEd's Hispanic and Latino employees contribute to ComEd's commitment to lead the energy transformation, while reinforcing the importance of instilling DEI in everything.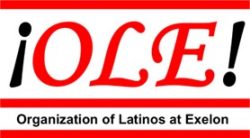 "Over the next few weeks, OLE will coordinate and host a number of programs in and around ComEd," said Dave Perez, senior vice president of Distribution Operations and executive co-sponsor of OLE's ComEd chapter. "The theme of this year's celebration — 'Latinos y mas' — reflects the power in us, and how we use that power to lift up the communities we live in and are privileged to serve."
ComEd serves approximately 9 million people across northern Illinois in wonderfully diverse communities, each with unique needs, opportunities, and challenges.
"As we celebrate Hispanic Heritage Month and events like the Mexican Independence Parade, we're reminded of the strength that comes from embracing our differences," said Alejandro Saldivar, manager of Support Services and president of OLE's ComEd chapter. "ComEd's commitment to DEI extends far beyond our office walls, and we're proud to be part of a company that values inclusivity at its core."
At ComEd, Hispanic Heritage Month goes beyond the Mexican Independence Parade. The OLE chapter has joined forces with sister utilities' chapters to create a vibrant month filled with a variety of virtual, hybrid, and in-person events catered to employees. Notably, OLE has collaborated with Erie Neighborhood House to contribute positively to the community through volunteer efforts. By nurturing an environment in both the workplace and the community that celebrates diversity, ComEd stands as a shining illustration of how inclusivity can be advantageous for everyone. ComEd's commitment remains persistent in advancing equity and fostering well-being within all the communities it proudly serve.