While some students and teachers count down the days until the school year ends, ComEd is counting down the days for its EV Rally summer program to begin!
ComEd's EV Rally provides opportunities for female students to learn from ComEd mentors and apply their STEM knowledge to build an electric vehicle (EV) over several weeks. The program culminates with a once-in-a-lifetime experience as participants race their electric go-karts at the Museum of Science and Industry in Chicago on Saturday, July 29. Every participant will receive a $2,000 scholarship upon completion of the program.
With so much excitement surrounding this annual summer program that supports women in science, technology, engineering, and math (STEM), it is no wonder that several program alumnae are encouraging their peers to apply to be selected for this great experience.
EV Rally Inspiring Young Women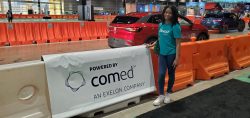 Eden Wilson's EV Rally journey started when one of her mentors—Dr. Renee Matthews— told her mom about a post the doctor saw on Facebook about ComEd's EV Rally. "It is important for people to share opportunities when they see them. I had done a lot as far as learning to code, but there is so much more to STEM that I hadn't really considered before doing ComEd's EV Rally," said Eden.
Eden's passion for STEM started when she was only in 5th grade! "My dad codes, and he really wanted me to learn. He started teaching my brothers and me," said Eden.
She never thought this would be something that would really interest her, until one day, Eden and her family went on a road trip. "We didn't have Wi-Fi or anything, but my dad had loaded Scratch (a block-based coding platform) on our computers. He reminded us that we could make some games for ourselves and play them. I did and ended up really enjoying it. After I got home, I made a lot of games on Scratch in my spare time."
When the pandemic brought most activities to a halt, Eden found this time as a great opportunity to continue posting games she coded on her YouTube channel. "I thought it would be something cool for kids to do while we were at home. What really inspired me to start teaching and get more girls into STEM was meeting a woman who coded," said Eden.
In 2021 she joined the Girls Who Code Summer Immersion Program where she met Bree Warren. Eden learned a lot from her about HyperText Markup Language (HTML), Cascading Style Sheets (CSS), and Javascript. "Learning that made me feel like real programmer. Learning to code from my dad was cool but seeing a Black woman coding and teaching us to code was inspiring."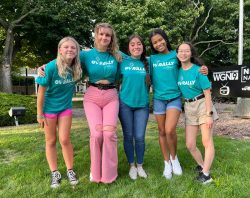 Since Eden's involvement with ComEd's EV Rally, she often shares how amazing it felt being part of this summer program. "I know people are probably tired of me talking about it, but it really is a wonderful experience. Walking in and seeing such a diverse group of women and girls all nerding out about STEM was like being at home. It was nothing like my AP computer science classes. There aren't many girls in my computer science classes and even fewer girls of color, so it is easy to feel left out."
During the program, Eden looked forward to the next day because the atmosphere was not just educational, but fun. "I felt empowered to share what I knew and was really excited to learn from my peers and the phenomenal mentors from ComEd. I truly feel like I am part of a STEM family now," mentioned Eden.
Currently, Eden is a junior in high school and she is part of the Computer Science Honors Society. She is also the co-founder of Lemonerdy University with her brother, David, who is a senior in high school. Lemonerdy University is an ad-free peer-to-peer education platform that combines live online instruction and self-paced courses in STEM taught by a diverse team of youth instructors who earn a competitive wage. "I do a lot of regular student things, but I am still very tech-focused in my day-to-day activities," states Eden.
Most recently, Eden was chosen to participate in the Creator Experience at Microsoft Build in Seattle, Washington this May as an ambassador. "Participating in the EV Rally showed me not only the importance of learning as a woman in STEM, but the importance of sharing, that's why building our edtech platform and being a STEM ambassador means so much to me," Eden states.
ComEd's Vision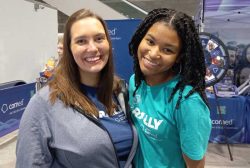 ComEd is committed to diversifying the pipeline of students pursuing careers in STEM fields.  Today, women make up 50 percent of the workforce in Illinois, yet hold only 27 percent of jobs in STEM fields, according to a study by the Illinois Science & Technology Coalition. The EV Rally is just one of the programs ComEd sponsors to encourage more students of color and women to pursue STEM careers.
Applications to participate in the EV Rally are being accepted through Thursday, June 1, from any female-identifying Illinois resident between the ages of 13 and 18. Applications are available at ComEdEVRally.com.