On October 18, ComEd energized the NOW Arena in Hoffman Estates with excitement for the future, as more than 1,700 high schoolers arrived to explore potential careers at ComEd's annual Powering Your Future Career Day. Students from more than 5o high schools across northern Illinois got a closer look at current and growing jobs tied to the clean energy.
The event kicked off with an inspiring talk with ComEd leaders CEO Gil Quiniones and VP of Human Resources Jaclyn Trovato Wickersham who discussed the variety of professional, technical, and supporting roles that are helping Illinois adopt clean energy alternatives like solar, EVs, and other energy-efficient technologies. Earlier this year, a study commissioned by ComEd revealed that as many as 150,000 jobs will be created in Illinois by 2050 to support the state's clean energy transition.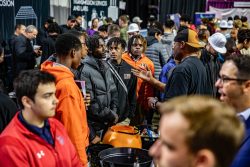 "The clean energy transition is marked by exciting developments like the rise in green technology and the need for grid modernization to prepare our communities for increasingly severe weather," said Jaclyn. "All of this offers the next generation a chance to play a unique role in combatting climate change while creating cleaner and safer communities. And, importantly, the wide range of careers in our field offer opportunities to earn a family-sustaining income — whether a student wants to pursue a career in management or a career in the trades."
After learning how future careers in energy can make a difference in their communities, students had a chance to visit more than 100 booths and exhibits throughout the arena. Ranging from Smart Grid, and Customer Service, to Construction, Engineering, Environmental Services and more, each booth was staffed by ComEd employees who explained how they help ComEd deliver safe and reliable power for 9 million people in Illinois and shared the training and education that is required to prepare for a career in their areas.
"Initially, I was looking into robotics, but after coming here I'm not too sure anymore. I'm open to anything," said Dayan, junior at West Chicago Community High School. "I didn't realize how many departments there were and how specialized they can be. There's a little bit of everything. What inspired me and really piqued my interest was the ComEd summer STEM program for girls."
"Today, I learned about ComEd summer internships. That sparked my interest in getting experience while in school so that when I graduate with a business or finance degree, I can leverage my connections and knowledge of the company," said Rudra, senior at West Chicago Community High School. "It's great to learn that ComEd provides these opportunities because, before coming here, I wasn't sure what I was going to do during or after college. Now I know I have more options and I feel more at ease."
Students also witnessed on-site demonstrations like pole climbing and drone piloting, both of which have an important role in maintaining power reliability. They even got to pet local goats that were a part of a display that educated students about the environmentally responsible and innovative role goats play in maintaining the power grid, as they help clear vegetation in hard-to-reach areas near field equipment.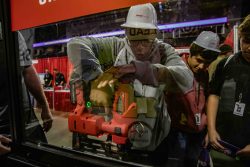 "Our students are always excited to engage in events hosted by our ComEd partners. Each site visit, tour, and panel is better than the last," said Curtis Lewis, Chicago Public Schools program for Chicago BUILDS. "ComEd is leading training and employment opportunities in clean energy here in the Chicagoland area, and what excites our students the most is the variation of possibilities from solar, to drones, to the trades … the options are abundant."
High schoolers curious about the world of STEM can sign up to be notified about upcoming ComEd STEM Lab programs. Graduating seniors drawn to the trades can find more information on ComEd workforce development and training programs here. College students interested in internships at ComEd as well as available scholarship programs can find more information here.