April was National Volunteer Month, and ComEd employees truly showed their commitment to causes close to their hearts by spending 1,335 volunteer hours in communities across the ComEd service area.  
More than 400 employees attended in-person volunteer events ranging from mentoring meetups, community clean-ups, food bank pack-ups, and much more. The top three causes supported for volunteerism during the month were community, environment, and children and youth.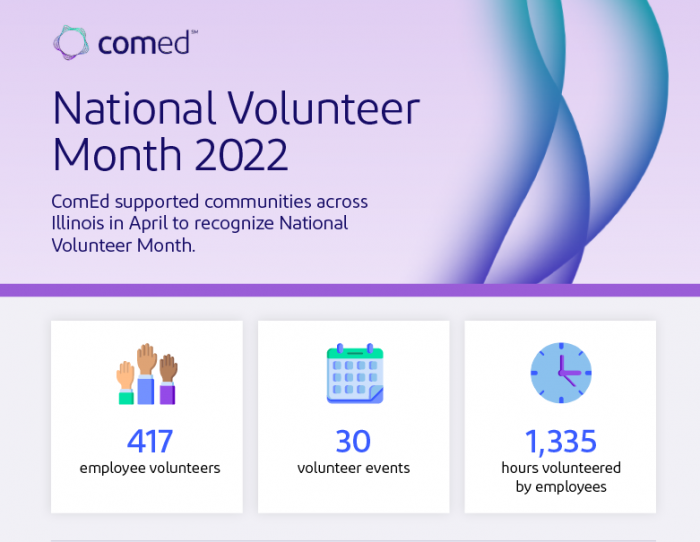 "Volunteering is just one of the many ways we at ComEd connect with the communities we're privileged to serve, and support community led efforts that improve quality of life for our residents," said ComEd, CEO Gil Quiniones. "Whether it's helping address food insecurity, supporting health equity, planting trees to advance green communities, or participating in community clean ups – every year our hard-working employees take time from their day jobs to observe National Volunteer Month and to give back."
ComEd leaders and employees hosted 30 events this month. Our very own CEO, Gil, hosted a food packing session where the team packed 18,000 pounds of food, which is the equivalent of 15,000 meals. The second volunteer event Gil hosted was Morton Arboretum's Arbor Day Plant sale where 12 ComEd employees joined hands with 300 other volunteers.
ComEd employees volunteered for a variety of causes in April. Bonita Parker, external affairs manager and ComEd volunteer, chose to support the Richton Park Village Cleanup Day because "they have been an amazing partner, and they actively engage their residents throughout the year." She says, "Volunteering is important to me because it demonstrates selflessness, care about the communities we serve, commitment to the relationships we foster, and concern for the world in which we live."
"I would like to thank ComEd for their participation in the Village of Richton Park Cleanup day. It is because of Bonita and ComEd that Richton Park will remain a premier community," said Rick Reinbold, President Village of Richton Park.  
"The partnership between us and ComEd has proven to be instrumental in offering programs to the community members of the Village of Richton Park," said Julian Alexander, Trustee Village of Richton Park.
While National Volunteer Month has ended, ComEd employees find ways to give back year-round. In 2021, ComEd partnered with 514 incredible organizations, logged 12,238 volunteer hours, and raised $2.1 million to support causes close to their hearts.
For 2022, ComEd employees have selected food insecurity as their Cause of the Year. Food insecurity is one of the most crushing inequities experiences facing some of the communities served by ComEd and is closely tied to issues of systemic poverty and racial inequity.
According to researchers at Northwestern University, food insecurity more than doubled in early 2020 as a result of the economic crisis brought on by the pandemic. At that point, nearly 1 in 4 households lacked access to an affordable and nutritious diet. While the situation improved, inflationary pressures are creating concerns that an increasing number of families will once again miss meals due to a lack of affordability.