Over 700 ComEd employees, friends and family will participate virtually in the American Heart Association's annual Heart Walks this weekend. Like many ComEd employees, including Joe Dominguez, CEO, and Santos Chaparro, manager in field and meter services, it's a cause that is close to their hearts.
Twenty years ago, ComEd CEO Joe Dominguez lost his mom to heart disease. Now he walks in her memory.
"It happened at a point in my life where I was on a roll career-wise," Dominguez said. "I was a partner in a big law firm and was down in Florida for a meeting to determine who would be the lead trial lawyer in a big, upcoming case."
Dominguez was chosen to lead the case and, to celebrate, he went to his Mom and Dad's home because they were living in south Florida at the time. The next morning, Dominguez headed back home to Philadelphia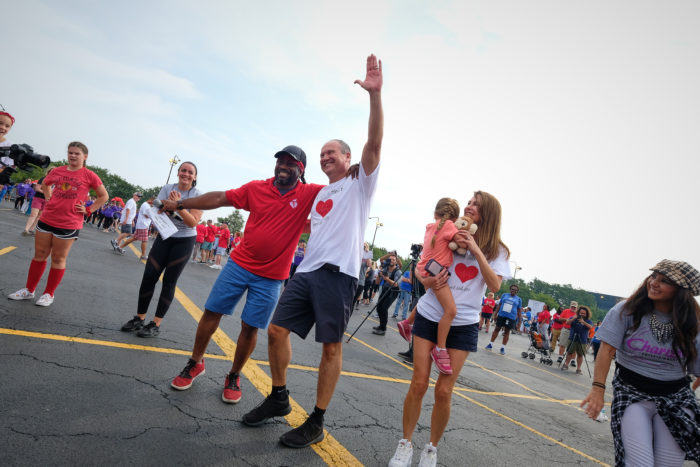 Dominguez at the 2019 American Heart Association's Heart Walk
"I got in the rental car and was in the parking lot of their condo. I looked in the rear-view mirror and there was my Mother standing on the porch of their condo waving goodbye," he said. "It was a perfect moment and, like so many perfect moments, you knew it had to come to an end."
A few days later, he got the call.
"I hope others can join the heroes who will walk in September," Dominguez said. "Ultimately, it's about walking to help people and about making a change in people's lives."
This year, Dominguez is the Chicagoland Heart Walk chair along with his wife Amy. He leads Team Dominguez, which is the top fundraising team. ln total, ComEd's 61 teams across Chicagoland have raised over $181,000 so far in support of the American Heart Association.
Santos Chaparro, manager in field and meter services
About nine months ago, right before the holidays, Chaparro started experiencing heart problems.
At the time, he was looking forward to spending time with his children and grandchildren, who call him a superhero.
But his heart had other plans.
"I had just gotten home and wasn't feeling well," Chaparro said. "Based on everything I was feeling, I knew something wasn't right."
He ended up in the emergency room and was rushed through a series of tests and diagnostics. Chaparro  spent about a week at the hospital, then another several months of doctors' visits and medication adjustments.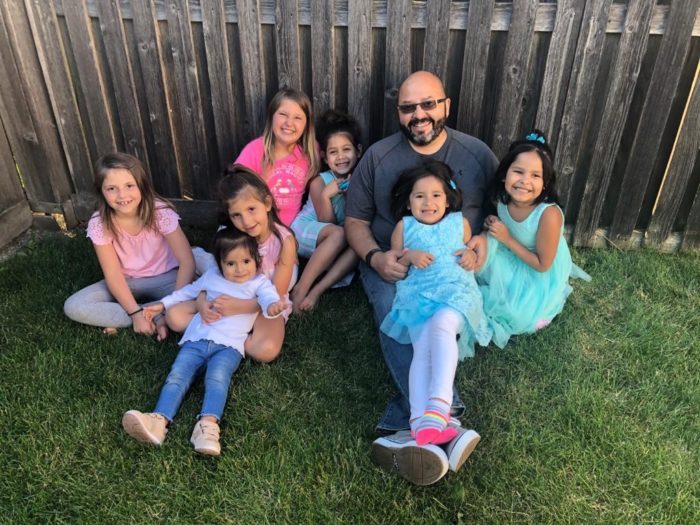 Chaparro with his grandkids
"I felt I was going to lose the opportunity to share precious moments with my family and friends," he said. "My family, my grandkids, coworkers and friends all felt the impact in one way, shape or form."
Chaparro ended up having a pacemaker and defibrillator put in his chest to keep things under control. When one of his grandkids noticed the defibrillator, he said "Papa, you remind me of Iron Man with that box on your chest."
"I became a hero again… at least to them. I was given an opportunity to make a difference. I have a different outlook on life. I'm thankful for that," Chaparro said. "Most importantly, I look forward to better health and the opportunity to share life with the ones I love and care about for many years to come."
Chaparro is part of the Sugar Shaker's team and walks because he knows that with every step, he's making a difference in someone's life. Sugar Shakers have exceeded their fundraising goal raising over $6,600 and Chaparro makes up nearly one-third of the team's amount.
ComEd employees at the 2019 American Heart Association's Heart Walk