Uncategorized
ComEd Celebrates the Biggest Graduating Class of the CONSTRUCT Business Operations Academy!
January 20, 2023
In November, ComEd celebrated 36 new graduates of the 2022 CONSTRUCT Business Operations Academy, a job training program that prepares participants for entry-level administrative and project coordinator roles in the energy and construction industries. This first-of-its-kind ComEd program launched in 2021 and graduated an inaugural cohort of eight women of color.
The six-week program prepares participants to take on business roles in the trades by learning basics of business operations and project management that prepares them for entry level administrative roles, customer service reps, and project management jobs. These jobs will play a key role to lead projects and meet customer needs as part of the transformation to clean energy.
This year's graduating class was also highly diverse 90 percent of graduates are minorities, 21 are female and graduates come from 27 zip codes across northern Illinois.
One of the 2022 Business Operations Academy graduates, Jasmine Henderson-Dixon, a resident of Chicago's Roseland community, joined the program because she was interested in expanding her project management experience, a highly sought out skill in all industries.
"Participating in the ComEd Business Operations Academy has given me the confidence I need as I take the next steps to pursue a career in project management," said Jasmine. "I am so grateful for the opportunity to learn through this 6-week program and challenge myself in the best way possible. I am thankful for the support and guidance from ComEd, my instructors, and my classmates."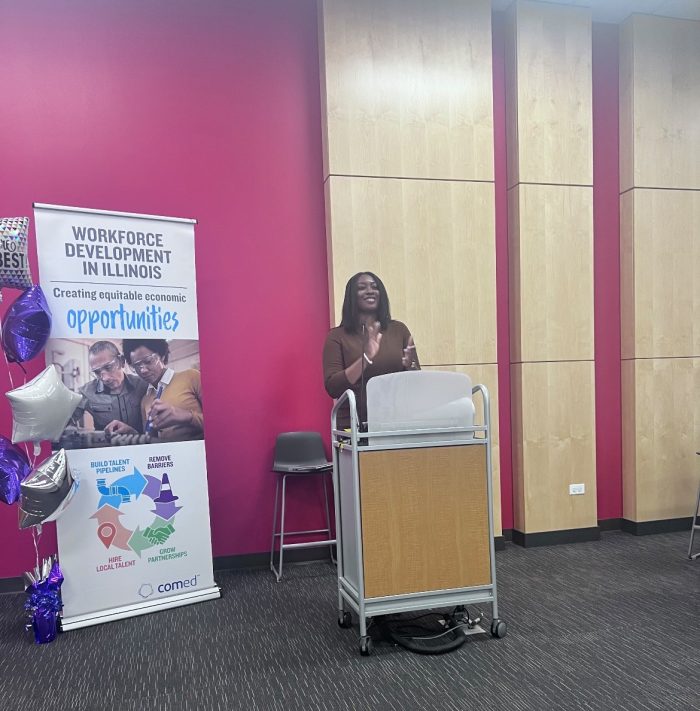 While in the Business Operations Academy, she also managed a full-time administrative project assistant role at RUSH University Medical Center and was enrolled in their Heath Systems Management master program. Jasmine's next steps are to prepare to take the project management professional certification by using the knowledge she received in the program. Her career goal is to use work in the clean energy sector and use her project management skills to lead projects that address community health issues caused by the climate crisis.
The Business Operations Academy training program is administered by workforce agency partners, including Cara Collective, the Chicago Urban League, the Quad County Urban League, the YWCA Metropolitan Chicago and INTREN, which funds the program alongside ComEd.
"It has been an amazing experience to partner with ComEd and to expand access to trades training in our community to give people opportunities to new career paths," said Xavier Garcia, program manager at Quad County Urban League. "It's a breath of fresh air to see our members excited to learn new skills such as project management to pursue well-paying jobs help us create a sustainable economy and equity in our communities."
ComEd works with a coalition of more than 40 construction and related industry companies and nine local community organizations to expand its outreach across northern Illinois and recruit people who have been underrepresented in the trades sector including people of color and women.
The energy provider company has been continuously working to grow its training program offerings for 10 years and this year launched a new three-week training program, the Craft Academy, where participants are exposed to a range of topics to prepare them for entry-level craft work. In 2022, More than 2,200 residents benefited from ComEd's workforce training programs including STEM Education.
"Providing the resources and tools to grow one's skill set to attain good-paying jobs is a proven way to create equity– and the research is clear that a more diverse workforce is a more productive one," said Laticia Holbert, workforce development manager at ComEd. "That is why at ComEd we have expanded our workforce training programs, to reach people from all backgrounds and across our service territory, so that we can develop the diverse and highly skilled talent pool that meets our demands for the years ahead."
A recent study conducted by BW Research, a national economic and workforce applied research firm, found that the transition to clean energy could create a net increase of more than 150,000 jobs in Illinois by 2050. The study was commissioned by ComEd to better understand the economic and workforce development challenges and opportunities communities will face in the transition to clean energy; the results include a statewide and regional job analyses. Jobs such as electricians, engineers, construction workers, among others– including entry-level craft being hired by ComEd – will be needed to move on the clean energy transition and to deliver clean infrastructure improvements as called for by the Inflation Reduction Act and the Infrastructure Investment and Jobs Act (IIJA).
To learn more about how to apply with one of ComEd's workforce agencies, or to find more information on training programs that occur year-round, please visit www.comed.com/cleanenergyjobs.