ComEd's EV Rally is the highlight of the summer for several young women in the Chicago area. The rally offers girls, ages 13 to 18, the opportunity to apply science, technology, engineering, and math (STEM) principles to build and race electric go-karts. It also connects participants with female STEM mentors and provides $2,000 in scholarship money to further their STEM education.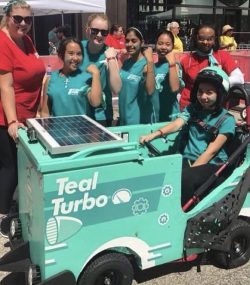 EV Rally is an evolution of ComEd's Icebox Derby, which ComEd launched in 2014 to educate and empower young women to explore careers in STEM and to build the innovative workforce of the future.
Icebox Derby participants transformed old, inefficient refrigerators into solar-enhanced racecars. Like the ComEd EV Rally, participants were teamed up with ComEd mentors to assemble and race the cars.
Over the last nine years, ComEd's Icebox Derby and EV Rally have provided opportunities for hundreds of young women to learn and to meet new friends who are also interested in STEM. Vanessa Nieto, associate engineer in ComEd's grid analytics, is one of those success stories.
In 2017, Vanessa participated in ComEd's Icebox Derby. Before her experience with the derby, Vanessa planned to be a math teacher. Seeing her team's car on race day opened a new world of possibilities.
The exposure to real-world STEM applications, the support from ComEd mentors and the motivational guest speakers encouraged her to pursue an exciting career in engineering.
"The Icebox Derby really opened my eyes to what engineering was. Speaking to a lot of the woman in STEM and hearing their stories was very inspirational for me," said Vanessa. "Just building a solar car out of a refrigerator motivated me to explore a career in engineering."
Not only did ComEd's Icebox Derby help pave the way for Vanessa to pursue a career in engineering, it also helped her build a group of friends she can count on to this day.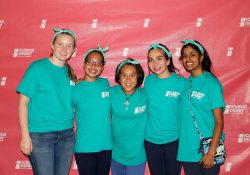 "The part that I enjoyed the most was working with my team. We had STEM challenges during our building days where we would be analyzing circuits together or fixing an issue with our car. Those days are what made us come closer as a group," said Vanessa. "We worked as a team. Even now, we still check up on each other. We continue to inspire one another as we move forward in our careers."
Being a Hispanic girl connected to ComEd's STEM programs is important for Vanessa. She knows she can encourage other young women like her to continue reaching for the stars and join the EV Rally.
"As a first-generation Hispanic student, I know that my parents sacrificed a lot for us to be here today," said Vanessa, "so I always want to make sure that I take the opportunities given to me and I encourage my Hispanic community to do the same. I always say, 'Don't be afraid to challenge yourself just because you don't see a lot of people who look like you.'"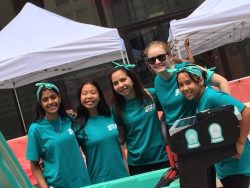 Applications for this year's EV Rally have now closed, but members of the community are invited to attend the EV Rally race at the Museum of Science and Industry on Saturday, July 29. Learn more about the program at ComEdEVRally.com.