When the pandemic first struck in 2020, it led many to reflect on their current career situation and caused some to consider a change in career paths.
Its people like this and those who are excited about the future of energy that continue to apply for ComEd's CONSTRUCT Infrastructure Academy, where they have the opportunity to not just learn, but to grow as well.
With a field that is greatly growing, with tens of thousands of new jobs expected to be added here in Illinois in the next few decades alone due to climate changes, it's no secret that today's climate crisis demands a prompt action to new demands placed on the grid, and a move toward clean energy technologies. Here in Illinois, that clean energy transition is expected to create an estimated 150,000 new clean energy roles by 2050!
What is CONSTRUCT Infrastructure Academy program?
CONSTRUCT Infrastructure Academy is ComEd's 11-week, job-training program that helps participants develop the core abilities required for entry-level positions in the construction industry. The program helps strengthen job readiness, life skills, and prepare participants for the industry-required testing that is often a requirement for employment.
The program also includes job shadowing to give candidates an up-close look at the various career paths available.
Since its launch in 2013, ComEd's CONSTRUCT program has grown from an inaugural class of 25 to teaching more than 90 students per year. To date, nearly 800 students have participated in the program and nearly 70% of the graduates have been offered employment.
CONSTRUCT exposes students to various trade careers, including advanced solar and energy efficiency technologies to help them prepare to join the local energy workforce of the future, it allows them to earn an income, and helps them emerge with industry certifications needed for roles that will be critical to maintaining a power grid serving 9 million people across northern Illinois.
The impact of CONTRUCT program
Daniel Saavedra and Brieanna Ware, alums of CONSTRUCT, are a testament to the value of the CONSTRUCT program. Like so many others, Daniel's and Brieanna's careers were shifted by the global pandemic.
Brieanna needed a change and her motivation to apply to CONSTRUCT came after she worked in the customer service field for over ten years.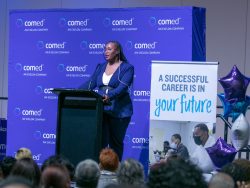 "Customer service wasn't really my passion, but it was a job. Once I had my son a couple years after I graduated with my degree, I really needed something a little bit more stable than the jobs that were in my actual field, which was sports, fitness, and nutrition; it was hard to get my foot in the door, so customer services seemed right at that moment," said Brieanna.
The idea to enroll in ComEd's CONSTRUCT program came to her when she was at a YWCA career fair earlier this year.
Brieanna thought she would be walking into more opportunities in customer service, but she was pleasantly surprised to learn that the program offered women the chance to train in a variety of roles, including those in the field which tend to be a male-dominated field. Brieanna wanted to take the leap of faith and join the construction field.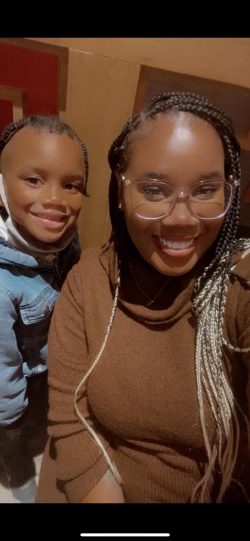 "I stand behind empowering women and getting more women into a male-dominated field—this was something that really sparked my interest," said Brieanna. She feels that if she can do it, other women can do it as well. "My goal is to get away from the stigma of construction being for just males—I would like to normalize this field and encourage other women to join." 
Despite the challenges of being a single mother, Brieanna decided to apply, "I thought I could set aside that time to join the program because this is something that I already essentially wanted to do."
Graduating from CONSTRUCT has helped her reflect on how important this is to her and how proud she is of herself and of her son as well. She recently got hired at Aldridge Group— an electrical contracting company—as an assistant project manager.  "This is like an us win, so it is exciting! For the first time I am proud of myself and just excited to move forward within the field," stated Brieanna.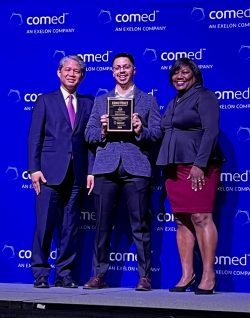 For Daniel, he wanted to change the industry he was in. After the pandemic, Daniel wanted to be an essential worker. "The pandemic had obliterated pretty much the hospitality, food and beverage industry, and I was considered non-essential, so I wanted to change that," said Daniel.
To Daniel, the ComEd CONTRUCT program guided him to the construction industry—it helped him dedicate more time and focus on the curriculum given. "During the program I had a better understanding of what the construction industry entailed. I knew all the dynamics in between when I was done with the program."
CONSTRUCT equipped David with the skills needed to obtain a job with ComEd as overhead lineman. "It will help me take care of my family, raise a family, and be comfortable financially," mentioned Daniel.
This program not only showed him the ins and outs of construction, but also taught him the importance of networking. "My advice to the younger generation is to take advantage of the networking opportunities as they are given."
During his time at CONSTRUCT, Daniel realized the importance of making connections. "If you are at a career fair, try to meet everyone, even if you don't think that you're interested. That person could guide you in the direction that you may want to go without you knowing that you want to go in that direction," said Daniel.
ComEd offers a range of exposure and career readiness programs for adults and youth at every stage of their career journeys. Last year alone these programs reached more than 2,000 people across the areas ComEd serves. For more information on how to enroll in ComEd training programs, please contact WorkforceDevelopment@ComEd.com or visit www.comed.com.
Congratulations to all the graduates!