Advancing Clean Energy
When Nature Strikes, ComEd Crews Strike Back to Restore Power to Customers
June 9, 2022
Long before lightning slashes the sky or thunder rumbles become audible, ComEd's Emergency Preparedness teams assemble—standing ready to mitigate storm-related outages.
Day and night, every day of the year, professionals at ComEd's Operations Control Center (OCC) monitor conditions for the 400 northern Illinois municipalities it serves. When thunderstorms, high winds, tornadoes, extreme heat, hailstorms, icy conditions or other weather anomalies threatening outages are forecasted, ComEd's OCC blasts emergency notifications to various departments.
Rapidly, ComEd beefs up its volume of customer service reps, system operators, dispatchers, construction crews and other emergency response teams to identify and combat outages.
"This building never shuts down," said Larry Pietryga, director, OCC, ComEd. "We monitor everything for the whole territory, over 11,000 square miles. We have weather forecasts we watch and monitor so that we can properly staff before events start happening, in order to make sure that we're prepped and ready to handle any outages that might come on the system. As storm activity begins, we remain calm and remember to use our event free performance tools to keep the field forces safe and restore power efficiently."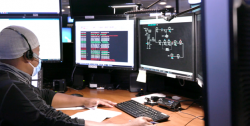 During the storm, ComEd analyzes outages and will first perform switching operations to restore power to as many customers as possible before beginning work to repair damaged equipment and cables.
All Hands on Deck!
When it is safe, overhead, underground and substation field crews—laser-focused and buzzing with determination—lace their boots tight and work together to contend with whatever may be as they're dispatched to various outages.
In normal conditions, these three departments perform distinctly different tasks. For example, overhead lineman and linewomen install wooden electric poles and perform work on high voltage transmission lines. Underground splicers descend into manholes or dig up direct-buried cable to locate and pull faulted cables and skillfully splice resilient joints. Substation mechanics employ a multitude of skills to build and update substation yards, buildings and vaults, and work on transformers, circuit breakers, switchgear and several other voltage manipulating elements. All three departments are trained in storm response and, when a storm hits, they work together to restore power.
If…
A fallen tree rips primary power lines from poles—overhead linemen and linewomen safely ascend in aerial lifts to repair and replace power lines.                
High winds, ice or some other force compromises residential power lines—underground splicers and substation mechanics work feverishly to repair and replace the lines going into homes or businesses.
In 2021, ComEd delivered some of its highest levels of year-over-year reliability for the more than 9 million people it serves, owing to power grid investments and innovations, storm hardening and vegetation management solutions, and cable replacement. Overall reliability last year was 68 percent better than when ComEd began grid improvements in 2011. Since then, ComEd and its more than 6,200 employees have avoided more than 17 million outages for customers, saving more than $3 billion in outage costs.
"The control room System Operators have a very demanding and critical job and it is humbling to witness the commitment, sense of purpose and pride that they pour into it. It is such an honor to be a part of this team, and help drive our mission to deliver safe, reliable electric service to our customers."
Tips to prepare for severe weather and the possibility of power outages:
Customers with special needs, such as those who may be elderly, disabled or dependent on electricity for medical equipment, should have alternate arrangements in place should they experience an extended power outage.
Have water on hand: one gallon of bottled water per person, per day without electric service. If your home is served by well water, fill a bathtub with water for sanitation use.
Have non-perishable foods, fresh batteries, a fully charged cell phone, battery-operated clock radio, blankets and local maps.