Driving Innovation
Three Innovative Ways ComEd Creates Proactive Safety Environments
January 25, 2023
Powering the lives of 9 million people across northern Illinois – and doing it safely – is no easy task; it is a job that comes with many safety hazards. That is why the 6,200 men and women at ComEd are committed to creating an environment that prioritizes safety to make sure everyone goes home in the same condition in which they came to work.
Last year ComEd had one of its best-on-record safety years by reducing their occupational safety and health administration (OSHA) recordable injuries by 22 percent from 2021 to 2022 and had one of the best rates in the utility industry at .74 compared to the 1.7 national average reported by the U.S. Bureau of Labor Statistics.  
"The type of work that our employees do is incredibly hazardous. We have to manage our work in all kinds of environments and weather conditions.  We work on such a wide variety of equipment located in diverse settings – we could be up in the air or in a basement or on a very busy street. Achieving our excellent safety performance is all about having a culture where employees actively look out for one another and create innovative tools to enhance our safety. Our active care for each other is one of the main reasons I love coming to work every day," said Neena Hemmady, vice president of support services at ComEd.
ComEd has created a culture of hyperawareness to identify potential safety concerns and address them before they can cause an accident, known as close calls and good catches. In 2022, ComEd employees reported more than 4,000 close calls and good catches. Incidents range from an overhead crew identifying frayed rope and stopping the job to replace it before continuing with the job. To when a substation construction crew stopped the job when someone noticed that the person in the man lift was in the line-of-fire of potential falling equipment and reassessed the situation to remove themselves from the hazard. 
"By creating a healthy culture that is focused on safety, it allows us all to be present in our jobs and be able to go home to our loved ones in the same condition that they came to work," said Neena.
That culture has also created a spirit of safety innovation among ComEd employees. Below are three examples of safety practices that were developed and implemented by employees to react to, protect from or prevent a safety accident.
Three Innovative Safety Practices at ComEd:
Emergency Response Backpacks- There is no planning for when an accident may occur. That is why ComEd employees are always prepared in case of an emergency by keeping an Emergency Response Backpack in their trucks. These backpacks go include more than a standard first aid kit.
The benefits of the backpack include: 
Provide quicker access to supplies to treat injuries during times of emergency. 
Stores automated external defibrillator (AED) and water-gel burn kit in a warm setting overnight during cold temperatures – cold temperatures impact battery life in AEDs and water-gel burn kits can freeze. 
Consolidate emergency supplies in one location on vehicles 
Easily view expiration dates on items
Provides extra space to carry additional safety/emergency response items in one bag. 
Gloves and Sleeves– In recent years, ComEd has expanded its guidance of when employees working on overhead distribution structures must wear sleeves and gloves.  This is the highest level of personal protective equipment (PPE) employees must wear at work and by expanding the guidance beyond the industry standard, employees reduce the chance of exposure.   
According to ComEd's expanded guidance for gloves and sleeves:  
Employees must wear the highest level of PPE until they return to the ground if climbing or if working from an aerial lift until the bucket is stowed.
Prior to going aloft in a bucket truck, employees don electrical safety PPE for the tasks to be performed. The employee's highest level of PPE is to be worn in the bucket if conductors or equipment energized at primary voltage is on the pole.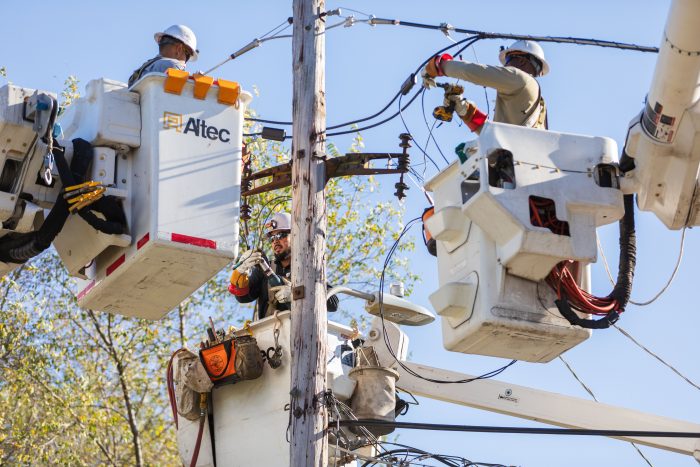 Magnetic Testing Barriers- innovations in safety can range from simple advances to changing practice norms in the work environment. One example is newer relay panels that include yellow adjustable barriers to prevent employees from working/wiring on the wrong panel; if the yellow barrier is horizontally across the relay panel, it means to stay out. Because yellow is not on some older equipment, reusable and magnetic orange barriers were created for these assets. Since the orange barriers are re-usable, crews can simply pack them up and take them to their next work site.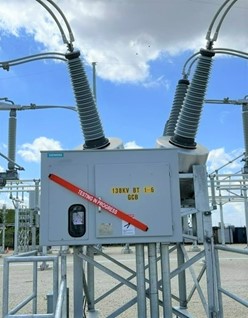 To learn more about safety practices you can implement in your everyday life including being safe around powerlines visit ComEd.com/Safety.