Every first Sunday in March, an iconic winter tradition takes place where nearly 4,000 volunteers come together and plunge into the ice-cold water of Lake Michigan. This event—the Special Olympics Chicago's Chicago Polar Plunge—supports thousands of area athletes with intellectual and developmental disabilities.
For the 12th straight year, the ComEd Coolers made a big splash! This year, ComEd had 34 ComEd Coolers sub-teams with over 320 plungers who raised over $200,000 for charity! Since ComEd started participating in the Polar Plunge in 2011, nearly 5,000 employees have raised more than $1.5 million to support this important cause.
All funds raised help support Special Olympics Chicago/Special Children's Charities programs that offer athletic and life-enriching programs for thousands of athletes of all ages in all 77 Chicago neighborhoods.
Cold Water, Warm Hearts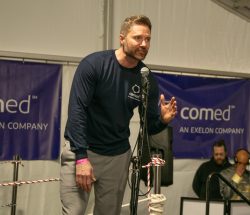 Jason M. Decker, ComEd vice president of customer financial operations, plunged for the first time this year! "I loved it," said Jason. "I have never participated in a polar plunge before, and it was so great just to see everybody who I haven't seen for so long because of the pandemic. It was a good chance to reconnect with folks and donate for a great cause." He enjoyed the experience that he encourages everyone to try it at least once. "I'll definitely do it again next year."
A well-known legend of the ComEd Coolers is none other than Arturo Chavez, substation supervisor at ComEd. He has been plunging with the ComEd Coolers for over a decade! But how did it all start? "About fourteen years ago, a few friends and I decided to knock a cool item off our bucket list and signed up for the Chicago Polar Plunge. Aside from raising money for the Special Olympics, we didn't know much about the event, but that was all we needed for the initial inspiration." said Arturo.
The pandemic put a pause on everything, so this was Arturo's first time back at the beach with the ComEd Coolers. "There's nothing better than to be at the beach as to doing it at home and jumping into a pond or a pool. It felt good to be back at the water and feeling everyone's energy." He has not missed a plunge since he started, and he sees no end to it. "I don't see this tradition dying off soon. Countless of friends, coworkers, and family members join me. I sense that this will be a long tradition and will go on for future generations," said Arturo.
Arturo is not the only who has had several plunges under his belt.
Spencer Zirkelbach has been plunging with ComEd for the past ten years! "In 2013, a friend of mine who had recently started at ComEd challenged me to come plunge with her. She knew I enjoyed giving back to the community and new experiences," said Spencer.
The cold has never stopped him, and he remembers his coldest winter taking the plunge, "I remember the windchill was -12-degree Fahrenheit. The notion of how cold it was outside didn't seem the phase people, everyone was so focused on supporting each other in this experience and doing this for the athletes.  It turned out to be an amazing experience and I've been doing it ever since."
Every year, Spencer partners up with ComEd Coolers to plunge in the icy cold waters of Lake Michigan for this great cause. "The reality is that most of the time of plunged I've done it with friends as part of the ComEd Coolers team. For about three years, I organized a team from the company I was at, but the past two, I've done it as a friend to people at ComEd and someone who is passionate about it," said Spencer.
The Power of Teamwork
You don't need to be an expert or a member of the ComEd team to plunge. You just need to do it for the right reasons. The Chicago Polar Plunge is just one example of ComEd's enduring dedication to giving back to its communities. For more information about ComEd's commitment to supporting communities throughout northern Illinois, visit ComEd.com/Community.