Have you ever wondered how ComEd and other agencies in Illinois prepare for severe weather and power-related events?  As part of its commitment to keeping customers connected during any type of emergency, ComEd coordinated a unique, statewide emergency exercise event called Operation Power Play (OPP) —the only statewide drill developed and led by an electric company in the U.S.
Together, with more than 50 participating public and private agencies, ComEd planned and developed 20 worst-case emergency response scenarios taking place across the state. To ensure each agency was prepared for potential disasters that can affect different people and services, worst-case scenario drills were developed to include substation sabotage, severe weather and flooding, power loss and mass generator deployment. The exercise scenarios ranged from discussion-based, tabletop-style drills to operations-based, full-scale response deployments.
OPP had multiple exercises over the course of two days. These showcasing's took place at Soldier Field in downtown Chicago, where agencies also got to see emergency vehicles, equipment, and high-tech programs that are used during recovery efforts.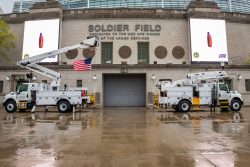 The importance of Operation Power Play
Due to climate change, severe weather events are becoming more and more frequent, which can have destructive impacts on our communities.
"Working with public and private partners in an exercise like Operation Power Play enhances and strengthens our relationships with external first response agencies.  Furthermore, it allows us to build upon our connections with agencies responsible to assist during emergencies such as storm response, mutual assistance requests and deployments, and other emergent situations," said Eric Duray, manager of emergency preparedness at ComEd.
OPP is unique because it offers ComEd and the participant agencies the opportunity to test their response plans. "We may not work with some of these groups daily so it's important that they share their capabilities and learn what others can bring to the table.  This is a great opportunity for shared learnings that benefit all participants," mentioned Eric.
Storm Services was one of several agencies that participated in this important event in Illinois. "These agencies represent all the communities who will be impacted by an event. The natural disaster will have a negative impact on their lives and property for a certain amount of time. By working together with ComEd, these agencies will be able to handle the worst-case scenarios quickly and effectively, to get life back to normal as soon as possible," said Tommy Hopkins, a partner at Storm Services Engineering.
Storm Services is an around-the-clock, state-of-preparation group that provides logistical support to emergency groups wherever needed. They provide items such as sleep trailers, laundry units and shower trailers that sit ready to deploy. Storm Services can also provide generators, light towers, refrigerated trucks, along with other support equipment.
"Base camp equipment has a use after emergency events because of how quickly the equipment and services can be deployed. The base camp concept is to keep all first responders in the same location to sleep, eat, and shower. Less windshield time traveling to multiple hotels and restaurants, will allow first responders to work safely the maximum hours allowed per day. If setting up a base camp allows ComEd to get the electricity back on 12 hours earlier, it is worth it to the ComEd customers and community," stated Tommy.
What You Can Do
Wind, lighting, heavy rain, and flooding can cause damage to utilities facilities and disrupt services. Separate from ComEd's OPP, there are things you can do to stay safe around electricity when a storm hits, or an outage occurs.
ComEd encourages you to take the following precautions: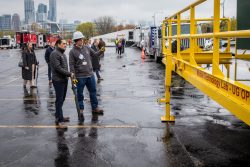 If a downed power line is spotted, immediately call ComEd at 1-800-EDISON1 (1-800-334-7661). Spanish-speaking customers should call 1-800-95-LUCES (1-800-955-8237).
Never approach a downed power line. Always assume a power line is extremely dangerous and energized.
In the event of an outage, do not approach ComEd crews working to restore power to ask about restoration times. Crews may be working on live electrical equipment, and the perimeter of the work zone may be hazardous.
Contact ComEd immediately if you experience a power outage. You can text OUT to 26633 (COMED) to report an outage and receive restoration information and can follow the company on Twitter @ComEd or on Facebook at Facebook.com/ComEd.
Also,you can call 1-800 EDISON1 (1-800-334-7661), or report outages via the website at ComEd.com/report. Spanish-speaking customers should call 1-800-95-LUCES (1-800-955-8237).
When responding to power outages caused by storms, ComEd's priority is to restore critical facilities such as police and fire stations, nursing homes and hospitals first, followed by repairs that will restore power to the greatest number of customers.
Thank you to all our participants at this year's Operation Power Play 2023: Advocate Good Samaritan Hospital, American Red Cross, Chicago Board of Exchange Global Markets, Chicago Fire Department, Chicago Police Department, ChicagoFIRST, Cybersecurity & Infrastructure Security Agency Region V, City of Evanston, CME Group, Cook County Emergency Management and Regional Security, Edward-Elmhurst Hospitals, Exelon, FEMA Region V, Illinois Commerce Commission, Illinois Department of Natural Resources Conservation Police, Illinois Law Enforcement Alarm System, Illinois Civil Air Patrol, Illinois Department of Transportation, Illinois Public Works Mutual Aid Network, Illinois Professional Emergency Management Association, Lake County Emergency Management Agency, Metra, Metropolitan Water Reclamation District, Mutual Aid Box Alarm System, Nicor Gas, National Oceanic Atmospheric Administration/National Weather Service of Chicago/Paducah/Lincoln, NorthShore University Health System, Northwestern Medicine Central DuPage Hospital, Options Clearing Corporation, Region VII Healthcare Coalition, Region X Healthcare Coalition, Rush Hospital Oak Park, United Airlines, U.S. Army Corps of Engineers, Village of Gurnee, Verizon, West Suburban Medical Center, Will County Emergency Management Agency and Zebra Technologies Corporation.