Advancing Clean Energy
Powering Communities Grants Have Supported Over $1 Million in Public Safety and Electrification Projects Across Chicago Area!
March 24, 2022
Facing a growing concern about climate change, municipalities across Illinois are looking for ways to promote clean energy in their communities. Guided by the state's bold and expansive law to secure a clean energy future for every community across Illinois, community leaders are looking to transportation electrification to reduce carbon emissions and improve air quality.
In partnership with the Metropolitan Mayors Caucus (MMC), ComEd is playing a role in helping communities become "EV ready." Through the Powering Safe Communities grants program, ComEd and MMC have offered competitive community grants to fund a variety of municipal and public safety initiatives. Many forward-looking communities are leveraging funds to focus on electrification projects that reduce carbon emissions, improve public health outcomes and advance community resiliency. MMC is helping their members of 275 mayors from Illinois cities and towns in preparing to seize these community planning dollars.
"In our conversations with mayors, we've come to the realization that electrification in our communities is a vital issue. We have discussed ways we could address that issue, and through the Powering Communities grants program, we've been really able to help communities meet this priority area," said Brian Tomkins, Project Manager for the Metropolitan Mayors Caucus.
Over the past six years, ComEd and the Metropolitan Mayors Caucus partnership has administered over $1 million in Powering Communities grant funds to local municipalities. Communities also provide a match for the Powering Safe Communities grant. In total, ComEd and the Caucus are proud to see the program has seen over $2.2 million dollars for local projects throughout the region and beyond. These funds have been instrumental in helping our communities meet their local safety and electrification needs.     

"ComEd is proud to partner with our communities by making needed investments that enhance the quality of life and regional competitiveness for the communities we're privileged to serve," said Melissa Washington, senior vice president of customer operations at ComEd. "Thanks to our collaboration with the Metropolitan Mayors Caucus, we are providing community leaders and planners across Illinois the support they need to develop plans and infrastructure needed to move toward electrification and a clean energy economy."
Qualifying proposals are eligible for grants of up to $10,000 each, available through three programs to support communities. Application for this grant, the Powering Green Regions Grant, and the Powering the Arts Grant are being accepted until 5 p.m. CST on March 25, 2022."The Powering Communities Grant program has been instrumental in helping these communities meet their needs," said Tomkins. "So far, we've helped communities install electric vehicle charging stations in various communities where they are easily accessible for residents and visitors. We encourage communities who are interested in expanding EV capability to apply for these funds before the deadline."
A Look Back: Electric Transportation Projects Funded in 2021:
Bolingbrook Police Department:This grant supported the purchase of two electric utility terrain vehicles (UTVs). The UTVs will allow the department to be more visible and better prepared to access and service citizens at local parks and public events, including the annual Fourth of July event which attracts more than 10,000 spectators each year.
City of DeKalb: This project supported the installation of an electric car charging station in the downtown area of DeKalb to encourage the use of green technology and support the use of electric cars as a clean transportation option.
Fox Metro Water Reclamation District:This project supported the installation of an electric vehicle charging station at the Fox Metro's main administration building. Building the charging station was the first step in adding electric vehicles to the district's fleet.
Village of Glencoe:This project supported the installation of two level 2 ChargePoint electric vehicle charging stations, each of which are equipped with two charging ports to accommodate four vehicles at a time. The charging stations also provide data about the stations' usage and allow the village to set different rates and conditions for visitors, downtown area tenants and village fleet vehicles.
Village of Port Barrington:This project supported the purchase of an electric vehicle for municipal use. This purchase showcases the village's commitment to energy conservation.
Village of River Forest: This project supported the installation of an electric vehicle charging station near River Forest Village Hall for future electric vehicles and visitors of River Forest's village hall and nearby parks and businesses.
Village of Wilmette:This project supported the purchase of an electric vehicle charging station in downtown Wilmette. The weatherproof, commercial grade charging station is accessible to the public 24 hours a day and allows the village to set different rates and conditions for users.
"Thanks to the tireless work done by our elected officials and partnership with ComEd, we are able to help communities achieve their electrification and local safety goals for a 7th straight year," said David Bennett, Executive Director of the Metropolitan Mayors Caucus. "We welcome communities to apply and pursue their tailored electrification and safety projects to meet their community needs."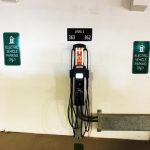 For more information on each grant program, including eligibility guidelines and how to apply, visit ComEd.com/Grants.