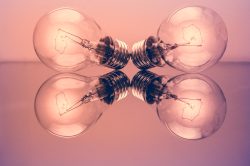 Daylight Savings began on Sunday, March 12, and Spring is right around the corner. Take a few minutes this week to spring into action and identify ways you can save energy—and lower your electric bill!
Did you know Spring cleaning can help with your energy efficiency? Check out these easy steps to take this Spring.
Swap out traditional light bulbs for LED alternatives—LED lightbulbs, especially ENERGY STAR rated products use up to 90% less energy and last up to 15 times longer than incandescent light bulbs. ComEd offers a variety of discounted ENERGY STAR rated products on the ComEd Marketplace.
Clean or replace your air filters—Heating and cooling consumes up to 50% of total home energy use in an average household. Dirty air filters make your furnace and air conditioner work harder to circulate air. By cleaning or replacing your filters throughout the year, you can lower your cooling system energy use by up to 15%.
Clean areas around your heating and cooling vents—Furniture, carpets and other objects can block vents and prevent heated or cooled air from traveling. This blockage makes your heating and cooling system work harder and takes longer to get rooms to the desired temperature.
Schedule a Home Energy Assessment with ComEd—ComEd offers FREE energy assessments to identify ways for customers to reduce energy use and save on their energy bills. These assessments can be in-home or virtual and include free and discounted products for your home.
ComEd's Energy Efficiency Program, which is funded in compliance with the state law, has saved customers more than $7 billion on their energy bills since 2008. The award-winning program has helped customers save nearly 65 million megawatt-hours of electricity, which is enough energy to power more than 7.4 million ComEd customers' homes for one year.
Make this Spring a time for fresh savings! For more information on how ComEd helps customers save money and energy, visit ComEd.com/HomeSavings for residential customers and ComEd.com/BizSavings for business customers.