Empowering Communities
Next generation of environmental stewards take action to protect pollinator habitats for the future
April 5, 2022
Spending time in nature is a wonderful way to create a deeper appreciation for Earth's natural resources. It's also a reminder of the responsibility we all share in the effort to protect and preserve our home.
In February, dozens of third, fourth and fifth grade students from Fischer Elementary School in Elmhurst participated in the Mighty Acorns program, an environmental education program that ComEd sponsors to connect Illinois students to their local ecosystems.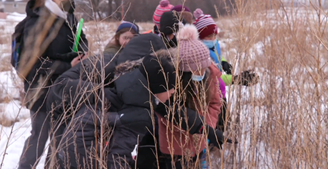 The students walked minutes from their school to the prairieland where ComEd's transmission lines are located to help spread native prairie plant seeds throughout the area. The plants will eventually provide a natural habitat for many types of pollinators, including the monarch butterfly and honeybee.
Each year through the Mighty Acorns program, during the fall, winter and spring, the students take a field trip to a local ComEd right-of-way and engage in a field study activity to explore the habitat, learn about the ecosystem and participate in environmental restoration work.
"We really have so little opportunity for kids to have these kinds of hands-on projects and experiments where they're seeing the fruits of their labor and seeing how the prairie develops from season to season as the students advance through third, fourth and fifth grade," said Sharon Blasen, third grade dual teacher at Fischer Elementary School.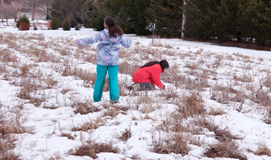 Before and after each trip, students complete a pre-field study activity and post-field study activity. These activities guide students to explore components of local ecosystems, issues that threaten the balance and biodiversity of local habitats, and actions we can take to care for nature.
"Every time we come you can see their eyes light up with excitement. Last time we were here, they were so excited about interacting with the bugs. Today, you might think, planting seeds in the snow might not be the most exciting activity, but they love it. They love getting outside and exploring – and when they come back, they'll remember how the plants have grown and how much more developed the prairie is," Blasen said.
The Mighty Acorns program is managed by The Conservation Foundation and administered by Stantec, ComEd's environmental partner.
"The Mighty Acorns program supports ComEd's conservation efforts by educating the next generation about the importance of native Illinois habitat and biodiversity," said Sara Race, principal environmental program manager at ComEd. "It is wonderful that as a large landowner we can partner with local schools and environmental non-profits toward a common goal of conservation while utilizing ComEd's transmission corridors."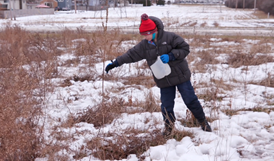 Watch Fischer Elementary School's students taking action to help protect and preserve natural habitats in their community here.