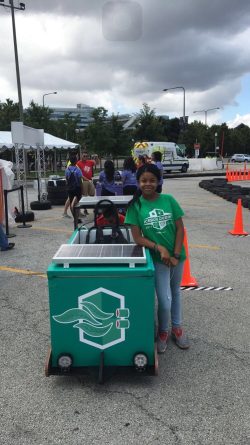 Amanda Bolden's experience with ComEd's EV Rally started in 2016, when she competed as part of the company's Icebox Derby. EV Rally – an evolution of the company's signature Icebox Derby program – is one of the STEM programs that ComEd offers to young women in northern Illinois. This program involves a competition that challenges teens to build electric-powered race cars under the leadership of ComEd mentors.
As part of the Icebox Derby, Amanda was able to work with ComEd women engineers to build an electric car from a recycled refrigerator and race it against other teams in the Chicago area. This allowed her to continue exploring her career path in science, technology, engineering, and math (STEM). "Doing the Icebox Derby unlocked more doors for me in terms of ComEd. I got the opportunity to do the Exelon STEM Academy. It was a one-week program that they had and that turned out to be an amazing experience," said Amanda.
She was able to visit different sites, such as the Museum of Science and Industry and even one of ComEd's facilities. Amanda helped in creating a green vision for Obama library in Jackson Park. She was invited back to serve as an alumni student teacher for the same program.
Amanda's journey in STEM began with her 7th grade teacher. Her instructor taught a class called Hour of Code at her school. At that time, Amanda thought STEM was something cool and fun to do. Her mom continued enrolling her in technology and STEM camps. It wasn't until Amanda was in high school that she took her first web app development class and realized she loved doing these programs. "I just started taking more and more classes, like advanced web development and mobile app development classes," said Amanda.
Her college expedition commenced, and Amanda never thought of technology as a career, she saw it as hobby, "I just liked playing around with technology until, one day, I realized that this could turn into a serious career." One of her general education classes in college was Creative Media Applications. As soon as she took that class, she declared her major in Computer Information Systems.
What's Next?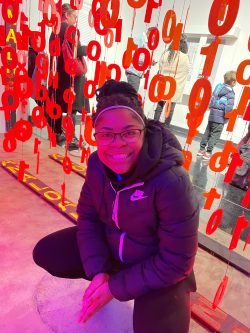 As Amanda prepares to graduate from the University of Dayton in May, with a Bachelor's in Science in Computer Information Systems, she can't help but to look back and thank the people who have helped her pave the way and wants to give back to her community.
Amanda is currently an intern with the Federal Bureau of Investigation. She recently accepted a full-time offer with TD Bank in Fort Lauderdale, Florida. One of her goals is to reach out to local schools and see how she can bring programs like the EV Rally to young girls near her.
"There are schools that, unfortunately, don't have STEM education, because of the (lack of) resources. My vision now is to start small, do local programs, and build it up to be able to create, one day, that non-profit called Girls Ignited by STEM. I wouldn't necessarily be here without all these programs, so I want to make sure that other young women have that same option," said Amanda.
If you are feeling inspired by Amanda's story and are a northern Illinois teenager who is interested in STEM, why not take the opportunity to get involved in ComEd's EV Rally? It could be a great way for you to gain some valuable experience and make a difference at the same time. Plus, you'll have an opportunity to meet new people and learn more about electric vehicles! Applications will be accepted until June 1st, at ComEdEVRally.com.