Unlike most people with a natural fear of heights, Tamarion Thompson, Overhead Helper (OHH) at ComEd, dreams of the day that he'll finally get to climb 60 feet into the air to work on pole lines. As a child from the South Chicago neighborhood, Tamarion always knew he wanted to work with his hands and wished to become an electrical technician. However, as he got older, his vision focused in on becoming a lineworker.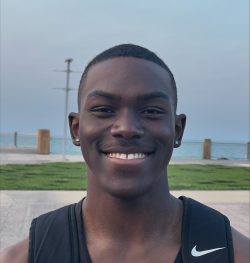 "One summer, when I was about 15 years old, I saw ComEd crews working on the lines high up in a bucket in my neighborhood," said Tamarion. "I was so interested in what they were doing, I stayed watching them for an hour or two. I kept wondering what it took to do that kind of specialized and dangerous work, and thought to myself, 'I'd like to do that.'"
As a senior in high school, Tamarion enrolled in Chicago BUILDS, a Chicago Public Schools (CPS) pre-apprenticeship program for teens interested in pursuing construction work post-graduation. As a sponsor of the program, ComEd engages with participants throughout the school year to provide professional and training lessons. It was in one of these lessons that Tamarion discovered ComEd's overhead apprenticeship program, a direct pipeline to becoming a lineworker.
As a new Overhead Helper, Tamarion has a full-time position and is on a path to becoming a full lineworker. He is learning basic knowledge of the tools and procedures necessary to maintain and fix the power grid. He also makes sure to soak up all the wisdom his trainers and crew leaders have to share.
"Although I receive support and encouragement, I still have to keep my ears open to constructive criticism and maintain a high level of discipline to ensure my and others' safety," said Tamarion. "These guys don't mess around. They fulfill very demanding and dangerous work – putting their lives on the line to make sure everyone has access to electricity. I admire their sacrifice and hope to one day rise to the occasion figuratively and literally."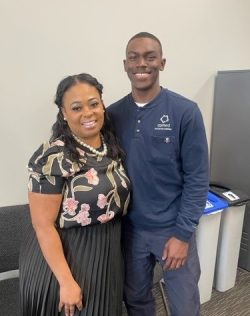 In February 2024, Tamarion will begin his 600-volt training, as part of the rigorous, almost three-year process of schooling and on-the-job training to become a capable and dependable lineworker. He joined Chicago BUILDS in 2021 and graduated from the program alongside another 82 high schoolers exposed to the trades through ComEd.
ComEd's partnership with Chicago BUILDS continues to offer diverse students a path into construction careers and is just one of the many ways that ComEd reaches out to area youth to prepare them for the well-paying, clean energy jobs of the future.
"Electrical linework is far from easy, but I still heavily recommend it to juniors and seniors in search of a career path. It's a stable, well-paid route that prepares you for life and retirement," said Tamarion. "Right now, I'm focused on being a good ground man, but over the years, I hope to earn my stripes as a ComEd Lineworker like some have for over 20 years."
Learn more about ComEd's job training opportunities here.