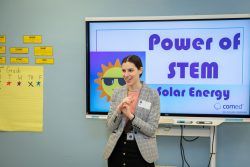 Bronzeville, located just south of Chicago's central business district, is a center for African American life and culture in Chicago. Historically known as the city's "Black Metropolis," Bronzeville has astrong sense of pride in its influential history and cultural scene. Since 2016, Bronzeville has been the site of ComEd's first Community of the Future (COF), in which the company works with local stakeholders to introduce advanced technologies to address the needs of residents.
COF is a multi-layered program that addresses community resilience, workforce development and education needs. Through this program, ComEd offers its expertise, resources, and personnel to help turn Bronzeville and other communities into one of the greenest, most connected, most sustainable communities is the nation.
"ComEd takes pride in getting involved with local communities to help improve quality of life," said ComEd CEO, Gil Quiniones. "ComEd STEM Programs are designed to accelerate social change one student at a time by empowering individuals to reimagine possibilities."
Driving Innovation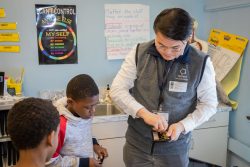 By offering hands-on learning, mentorship, and professional development, ComEd is forming the leaders of tomorrow and encouraging them to solve future challenges.
This spring, five ComEd mentors worked together with Bronzeville's Doolittle Elementary School. Twenty-five students received hands-on learning about the details of electricity as part of ComEd's Power of STEM education course.
ComEd's Power of STEM program consists of three, two-hour sessions during which students, in grades 4 through 12, complete hands-on projects with ComEd engineering mentors to learn about electricity, how solar energy is generated, the Bronzeville microgrid, and the roles ComEd STEM professionals play in maintaining a community's power supply.
"ComEd is proud to help deserving students from underserved communities achieve their higher education goals," said Michelle Blaise, ComEd's senior vice president of technical services. "We hope that our support enables these wonderful students to receive the education necessary to create change in their fields and inspire future generations to come."
ComEd's Community of the Future is providing a glimpse into what tomorrow could hold. Together, we are working to inspire more children to explore STEM and pursue STEM careers including engineering that can improve our communities— communities of the future.
Schools, community organizations and nonprofits interested in scheduling a Power of STEM session for student-age children can email Rebecca Niemeyer at Rebecca.Niemeyer@ComEd.com.