Rowe-Clark Math & Science Academy was named for the kindness of John and Jeanne Rowe as well as Frank and Vera Clark, along with the gracious support of Exelon. Frank Clark was ComEd's former CEO and John Rowe was the former CEO of ComEd's parent company, Exelon. With their collaboration with Rowe-Clark Academy, ComEd and Exelon have been able to help prepare students for their college journey as well as their workforce expedition.
ComEd has been engaged with the Rowe-Clark Math & Science Academy – a public 4-year charter high school located in the Humboldt Park neighborhood in Chicago – through volunteer work and funding since its establishment in 2007.
As Rowe-Clark students graduate and enter the workforce, some of them find themselves taking jobs with ComEd. Here are stories from three Rowe-Clark graduates who went on to careers with ComEd.
Who they are:
Jessica Rojas was part of Rowe-Clark Academy's first graduating class in 2011. Soon after, she attended Illinois Institute of Technology before starting work at ComEd in 2016. Jessica currently serves as a senior project manager on the distribution interconnection team, working on solar projects across northern Illinois.
"I was always into STEM, but before, I wanted to be a doctor. When I went to (Rowe-Clark Academy), I started learning more about engineering with ComEd employees that were invited to our school and talk to us about their job role. Mrs. Rowe would take us to the offices and talk about internship opportunities," Jessica said. Jeanne Rowe also led an extracurricular class called Girl Talk at Rowe-Clark, which intrigued Jessica.
Jessica's passion from the medical field to engineering switched in a blink of an eye. "Rowe-Clark help inspire me to pursue engineering in college through the classes and programs it offered that promoted STEM. Since ComEd had such a strong connection to the school, it always seemed like a place I wanted to work in someday."
That switch became reality when Jessica started working for ComEd. While in regional engineering, she had the opportunity to work with students from Rowe-Clark Academy. "I enjoy helping ComEd reach Illinois' goal of achieving Clean Energy and getting to work with so many different departments throughout the company," said Jessica.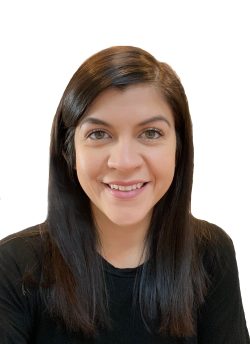 Lissette McCarthy is also part of the first Rowe-Clark Academy graduating class of 2011. Living in Chicago, she was familiar with ComEd. "I knew they were an electric utility company. I became more aware of the corporate side in high school through Mr. and Mrs. Rowe," said Lissette.
Before high school, Lissette did not have plans to attend college. "I didn't think it was something that was attainable; without the support of Rowe-Clark, I would not be where I am today." Lissette says she currently loves being an engineering design tech for ComEd's south regional distribution team where she can work and learn different sides of the utility.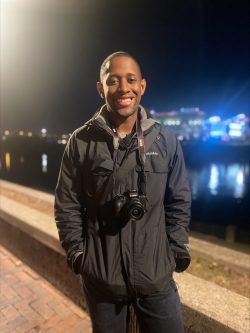 Caleb Hunter graduated in 2017 from Rowe-Clark Academy. He initially started high school at Urban Prep Academy for young men but, in 2016, he transferred to Rowe-Clark Academy.
While in Rowe-Clark Academy, he did not know much about Exelon and ComEd. "I just knew that the school was co-founded by Exelon. I did not know that Exelon and ComEd had many job opportunities," said Caleb.
Caleb attended Illinois State University, majoring in cybersecurity and graduated in 2021. After he graduated from college, Caleb looked for a job for almost six months. He stumbled across an application for a system administrator role at Exelon and he was hired as an IT workforce development staff member.
Like Lissette, Caleb did not see college as an option, but Rowe-Clark Academy inspired him to continue his interest in STEM. "I will say, Rowe-Clark actually did play a very big role in me going to college because if I'd stayed at my old high school, I wouldn't have gone to college, and I actually would have joined the military."
Rowe-Clark Academy challenged Caleb as a student, "The school helped me believe in myself. It helped me build my confidence and inspired me to go to college," said Caleb.
Empowering the Future
Caleb, Lissette, and Jessica share their stories in hopes they can help inspire younger generations. Rowe-Clark Academy is making college a reality for low-income students at rates that far exceed both national and district averages. Over 300 students have graduated since 2011, with 75% of the 2014 class enrolling in four-year colleges and 24% enrolling in two-year colleges.
ComEd has awarded more than $350,000 in scholarships for students who pursue an education in STEM. The education and initiatives that ComEd supports helps keep our students of today prepared for the workforce of tomorrow. To learn more about education and technology programs that ComEd offers, visit www.comed.com/safetycommunity.