Empowering Communities
CONSTRUCT Youth Academy's First Graduates Get Fired Up for the Jobs of the Future
August 3, 2023
ComEd and the YMCA of Metropolitan Chicago are proud to present the very first class of graduates from the CONSTRUCT Youth Academy, a unique program designed to foster interest in a range of clean energy jobs that will be important for the future. Twenty diverse high school students from the Chicago area crossed the stage to obtain their certificate of completion after three weeks of discovering all the exciting career possibilities growing within the energy industry.
Building on the company's long-standing CONSTRUCT Infrastructure Academy for adults, ComEd launched the CONSTRUCT Youth Academy in partnership with the YMCA of Metro Chicago to get area youth exposed at younger ages to job opportunities that are fast approaching with the advancing clean energy transition in Illinois. A recent study estimates that as many as 150,000 new clean energy jobs will be created in the state by 2050.
"The transition to a cleaner energy future will certainly offer health and environmental benefits through improved air quality, but ComEd is also committed to ensuring that the job creation and economic opportunity sparked by this transition benefits every community we serve," said Keisha Parker, Vice President of External Affairs for ComEd. "In collaboration with the YMCA and partners across the region, we are bringing job training and educational opportunities to our communities that will expose more youth to exciting career possibilities in the utilities and ensure the diverse and skilled talent pipeline that the jobs of the future will demand."
During the program, students received instruction and demonstrations from ComEd leaders on a variety of careers that will help power the clean energy transition in Illinois, including drone pilots, roles maintaining the power grid, work to support the growth of solar development, EVs, and more. Participants also received insight on how the Care Center, External Affairs, and Large Customer Services departments support ComEd customers amid evolving energy needs. Among these in-demand roles are those in the electrical and construction space – an area of the utilities world that really stuck with Christian Warren, 16, a student at Lindblom Math & Science Academy.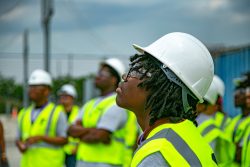 "What I really want is an apprenticeship with ComEd, so I can start learning and getting the certifications that'll lead to a job as a lineworker," said Warren. "It was awesome seeing firsthand demos of electrical work and meeting people from across the company each doing their part to switch to clean energy while helping our community get connected to these opportunities. I also want to become that connection for others that might be interested in joining the trades."
At the completion of the program, students received a stipend of $350 – an added benefit designed to break down some of the financial barriers that could prevent some from participating. The CONSTRUCT Youth Academy is one of the newest examples of ComEd's investment in education and career-readiness programs. These programs aim to connect diverse job seekers to family-sustaining job opportunities supported by the clean energy transition in Illinois.
"Through the first-ever CONSTRUCT Youth Academy program, our students have been able to plant seeds for the future that will help them grow lifelong opportunities and strong roots for the future," said Dorri McWhorter, President and CEO of the YMCA. "Professionals in the energy, utility, construction, and facilities-management sectors will only continue to be in greater and greater demand here in Illinois. Having this experience under their belts will position them for success, no matter which career path they choose after high school."
To learn more about ComEd's education and workforce programs visit comed.com/training.