Empowering Communities
ComEd's Drone Demo Exposes High School Students to More STEM Career Options
July 14, 2023

On a hazy Thursday morning, 20 teens participating in After School Matters (ASM) gathered around a large ComEd drone in the gymnasium of Phoenix Military Academy on Chicago's west side. The students were there to learn about emerging careers in drone piloting.
Today, when communities experience outages, drones are deployed along with area restoration teams to turn the lights back on more safely and efficiently. Only three days into the ASM aviation program, ComEd drone experts provided students a lesson on drones, a demonstration, and the chance to fly one.
"At ComEd, we offer a variety of training programs for youth to prepare them for the well-paying clean energy jobs of the future," said Laticia Holbert, ComEd Workforce Development manager. "Visits like today's drone demo expose diverse, young people to the career possibilities that await them in the energy industry."
ASM's six-week summer training program offers students 16 and older the opportunity to become a Federal Aviation Administration (FAA) certified drone pilot.
"I really have three main goals for my students," said Marcia Boyd, postsecondary instructor for ASM and program manager for Junior Reserve Officer Training Corps (JROTC) at Chicago Public Schools (CPS). "First, I want to expose them to the world of aviation and new career pathways that they might not have considered before. Second, I'm going to do all I can to help the qualified students pass the certification exam. And third, I'd love to get them connected to post-secondary education or technical careers that they know they'll enjoy."
As a CPS employee, Marcia noticed too many children going directly to college after graduation without clear career goals, only to drop out and restart their career search journey. According to Marcia, providing teens the opportunity for certification while exposing them to real-world examples of what can be accomplished with it is one of the best ways to ensure their success.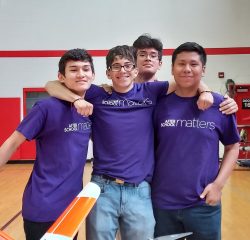 Jonathan Cepeda, 16, couldn't agree more. "Since I joined ASM a few years ago, I've learned so much more than just aviation. ASM and ComEd have opened my eyes to jobs I didn't even know existed, like the use of drones to help with natural disasters. I just can't wait to get my FAA certification because although it's expensive, the program pays for it and with it, I can start getting drone work experience."
For the remainder of their summer program, the students will continue to learn about different career paths in aviation. They'll also learn other technical skills fit for a teenager, like photography and filmmaking — a skillset coveted by event managers in need of drone pilots for community events, open houses, concerts and more.
"Exposing young adults to unmanned aircraft can help pave the way for a career in a rapidly growing industry, especially in the utilities sector with a company such as ComEd," said Victor Migliore, ComEd Senior Engineering Tech Specialist and drone pilot. "As we help empower young adults to develop a passion for cutting-edge technology, we enable them to make a positive social impact and support their communities."
To learn more about ComEd's workforce training programs, visit www.comed.com/training.