Empowering Communities
ComEd's Youth Ambassadors Take a Field Trip to the Future of Clean Energy
September 5, 2023
This summer, ComEd partnered with After School Matters to bring 120 area youth who are interested in STEM into the annual summer program "Youth Ambassadors" so they could learn firsthand how the clean energy transition will create healthier and stronger communities of the future. During the six-week program, these Chicago teens learned about electricity and solar energy, toured ComEd facilities, visited an electric vehicle (EV) production plant, and capped off the program with a final showcase demonstrating their key takeaways.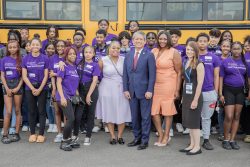 On July 21, students had the exciting opportunity to join state, federal, and auto industry leaders for the grand opening of the Lion Electric production plant – the largest medium- and heavy-duty EV plant in the country. The new 900,000 square foot EV manufacturing plant in Joliet is slated to build up to 20,000 electric-powered trucks per year, playing a key role in advancing Illinois' EV goals in the Climate and Equitable Jobs Act (CEJA) to expand electrification and the emission reduction benefits that come with it. Youth Ambassadors took part in this milestone event marking continued progress in the state's pursuit of becoming a national leader in clean transportation as they visited Lion's EV showrooms, toured production lines, and rode on electric school buses.
"Through ComEd's workforce and education programs, we are working with ASM and other partners from across the region to connect hundreds of students every year to real-world learning and mentoring opportunities that expose them to the many possibilities within the fast-growing clean energy sector," said Laticia Holbert, Workforce Development Manager. "During the Lion Electric field trip, our Youth Ambassadors were able to see close up how Illinois is mobilizing growth of the EV sector, and how a variety of career possibilities will be integral in producing and powering EVs which will play a critical role in enhancing air quality and growing the economy."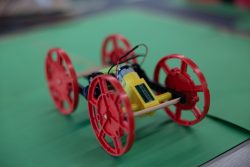 Over the course of six weeks, program participants learned about the evolution of the power grid, EVs, solar energy, and charging stations, all while independently applying their newfound knowledge to gradually building their final project. Sourcing their new skills from the hands-on activities, tours, and panel discussions, each teen created their own solar-powered cardboard building or battery-powered toy car, for example. Inspired by what a clean energy future could look like, many teens chose to showcase their projects together to create a zero emissions tiny city.
"I learned a lot of new skills in my program in electrification and technical engineering," said Ami, 16, ComEd Youth Ambassador. "This program helped me better understand where my interests lie in engineering because that's the career path I would like to follow."
"I loved my program and my instructor. I learned about coding and how to combine wires to make a remote car run and turn lights on and off," said Ra'shard, 16, ComEd Youth Ambassador. "I want to go into coding after college so the skills I learned this summer will help me in the future."
Since 2013, ComEd's Youth Ambassadors program has inspired area youth to think about the future of energy and the role they could play in the clean energy transition. Each year, ComEd's reach grows as it scales to expand the diverse talent pipeline required to fill upwards of 150,000 clean energy jobs coming to the state by 2050. Last year alone, over 2,000 people across northern Illinois benefitted from ComEd workforce and STEM programs.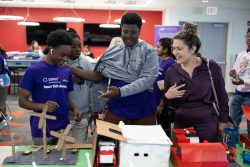 Whether through expanded workforce training or its investments to boost STEM in area schools, ComEd is committed to connecting the communities it proudly serves to the careers that'll create a cleaner tomorrow. Teens interested in exploring the world of STEM are encouraged to share their email to get notified about upcoming free STEM programs during the school year. Those interested in participating in next summer's Youth Ambassador program can find more information here.