Empowering Communities
ComEd supports new workforce center to bring career assistance to Chicago's South Side residents
February 4, 2021
To help South Side residents advance in their careers, ComEd sponsored the resource room and funded computer equipment for a new education and workforce center in Chicago's Chatham neighborhood that offers job training and career counseling.
The resource room in the Chatham Education and Workforce Center will serve as an area for job seekers to work on resumes, fill out job applications, complete assessments and create other work-related correspondence.
"At ComEd, we are a member of the communities we're privileged to serve," said Diana Sharpe, vice president of economic and workforce development at ComEd. "It is our honor to invest in our communities – particularly those in need."
Resource room funded by ComEd
Development of the center was the brainchild of U.S. Congressman Bobby Rush, who sought to revitalize local communities gripped by violence following the May 2014 random-shooting death of Dr. Betty Howard, the head of the special education department at Gwendolyn Brooks College Preparatory Academy.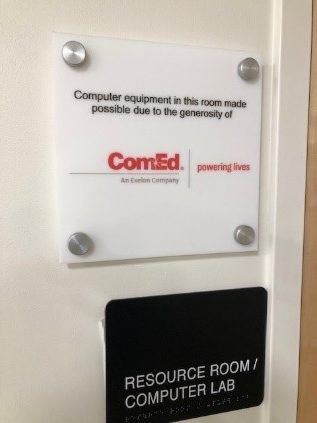 The recent opening of the center in Chatham is one of many initiatives to evolve from that work and one of which ComEd is honored to be a part of.
"ComEd's partnership with the center is important in fueling long-term financial growth and prosperity because it leverages its deep reach into communities that have been inequitably denied vital investment for decades," Sharpe said. 
The 11,000 square-foot facility conceptualized by The Chicago Cook Workforce Partnership, a non-profit organization operating the public workforce system for the city of Chicago and Cook County, features a career center and resource room that offers services for job seekers and businesses.
The center's first floor is home to offices, classrooms, group meeting spaces and a state-of-the art manufacturing classroom/Maker Lab where instruction will be provided by the Jane Addams Resource Corporation and Richard J. Daley College, one of the City Colleges of Chicago. Courses offered in the lab will include blueprint reading, introduction to electrical circuitry, computer aided design and metrology – an important aspect of advanced manufacturing.
The second floor boasts the career center, ComEd computer lab and resource room, and a multi-purpose room with capacity for more than 100 people for hiring events or community gatherings.
"Interest in the center, both as a community meeting place and career center, is robust and the resource center is a pivotal part of the center's resources," said Karin M. Norington-Reaves, The Partnership CEO. "Whether utilized by a first-time job seeker or an age 50+ applicant returning to work or pivoting in a career, the resource room is a vital addition to the workforce development, and ultimately economic development, tools available to South Side residents."
At ComEd, we are a member of the communities we're privileged to serve. It is our honor to invest in our communities – particularly those in need.