Yesterday, ComEd earned the highest honor at the Chicago United Bridge Awards, which annually unites Chicago's business community, including small, mid-sized and large business owners, emerging leaders, and civic figures to celebrate and promote multiracial leadership and diversity within the corporate space.
In line with this year's theme, "Elevating Equity," ComEd was recognized as a company that demonstrates extraordinary leadership in achieving diversity and inclusion. The rigorous selection process considered Chicago United member companies that have shown commitment to workforce diversity, strong evidence of supplier diversity efforts, and participation in community initiatives across the city.
"ComEd's DEI commitment goes beyond the 6,300 dedicated professionals who work at ComEd—it guides the way we work with and invest in our communities," said Gil Quiniones, CEO of ComEd. "As a leader in creating cleaner communities and improving air quality in northern Illinois, we are working hard to ensure that the benefits of a cleaner, more digital energy future flow equitably to communities with the greatest need. ComEd's workforce is united behind a shared commitment to build a more equitable, more inclusive workforce, where diversity is celebrated," added Gil.
Supporting Diverse Businesses and Communities
ComEd is committed to being a leader in Diversity, Equity, and Inclusion (DEI) — providing programs that empower individuals, diverse businesses, and communities through the elimination of barriers to advancement, development of diverse leadership, and delivery of DEI education. ComEd works to ensure a supportive and inclusive environment, because when teams with diverse perspectives come together, the company can best support the 9 million people it serves across northern Illinois.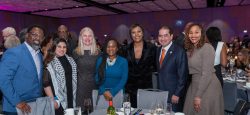 Tiffany Hamel Johnson, President and CEO of Chicago United, commended ComEd's unwavering commitment to Chicago United's shared vision. "For more than three decades, ComEd has been a vital partner in supporting our vision," she stated. "Recognizing its hard work and initiatives around diversity, equity, and inclusion, it is indeed noteworthy that ComEd has been named the recipient of the 2023 Chicago Bridge Award."
ComEd takes pride in being recognized by Chicago United as it remains committed to maintaining the momentum of diversity, equity, and inclusion, and having a workforce that mirrors the vibrant communities it proudly serves.
ComEd's dedication to diversity is reflected in its substantial impact on the communities it serves. This same week, Laticia Holbert, manager of workforce development at ComEd, received the Workforce Champion Award by the Center for Energy Workforce Development (CEWD) for her outstanding work in connecting underrepresented members of the community to the variety of well-paying careers in the energy field, as the company builds a pipeline of local and diverse talent to support the clean energy transition.