ComEd 2030 is ComEd's vision for advancing a low-carbon future in ways that benefit all communities. It sets out a plan for the energy company's journey towards a cleaner, greener, and healthier future for families and businesses across northern Illinois. Among its primary objectives is the transition toward zero-carbon electricity and embracing electrification in transportation to help reduce harmful emissions and improve air quality.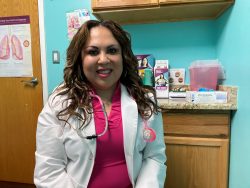 To help explain why these efforts are important to both communities and the environment, ComEd reached out to Dr. Juanita Mora, national spokesperson for the American Lung Association and Chicago-based allergist/immunologist.
"Cleaner air leads to better respiratory health and reduced risks for conditions such as asthma, lung cancer, and other respiratory diseases, benefiting every resident, young and old," said Dr. Mora.
Electrifying transportation through the adoption of electric vehicles (EVs) will reduce exhaust emissions and air pollutants. This shift can result in cleaner air and less exposure to harmful toxins for pedestrians, cyclists, and commuters alike.
According to the American Lung Association's Zeroing in on Healthy Air report, a nationwide transition to zero-emission cars, buses, trucks, and other vehicles, paired with the use of renewable energy sources to electrify these vehicles, would help improve air quality and increase public health benefits across the United States.
"This report illustrates the benefit to public health, air quality, and climate change if we accelerate the adoption of zero-emission transportation coupled with renewable energy sources like wind and solar," said Dr. Mora. "Today, over four in 10 Americans live in communities impacted by unhealthy levels of air pollution. Unhealthy air contributes to asthma attacks, heart attacks, strokes, lung cancer, and premature death."
The urgent need to address air quality would bring important benefits to communities of color and lower-income communities who have historically been exposed to higher levels of transportation pollution. People in these communities experience poorer health outcomes due to air pollution, and exposure to air toxins during infancy can even harm early cognitive development, causing children to fall behind in school.
As we embrace widespread electrification, all communities will experience transformative health benefits. Reduced environmental pollution will lead to healthier and happier societies, as the consumption of natural gas, gasoline, and petroleum products decreases, positively impacting our planet and air quality.
Creating Sustainable, Thriving Communities
ComEd is displaying its commitment to the acceleration of the adoption of EVs and other electrified technologies, like heat pumps, with a $231 million investment over the next three years for programs designed to reduce upfront costs of EVs and charging equipment; enable broad, equitable deployment of charging infrastructure and other electrification technologies; educate customers; and prioritize investments equitably for communities in need.
Implementing customer programs like these will help reduce dependence on fossil fuels and simultaneously improve community well-being, with a particular focus on historically disadvantaged areas disproportionately affected by vehicle tailpipe and other carbon emissions.
When residents experience better health outcomes, they are more likely to engage in physical activities and enjoy outdoor spaces, which, in turn, contribute to healthier lifestyles. Thriving communities that prioritize sustainability not only benefit the health of everyone who lives and visits there, but also to overall quality of life.
For these reasons, ComEd 2030 is more than just a vision for the future of energy; it is a pathway towards a healthier and more sustainable world for all residents across the communities ComEd is privileged to serve. By transitioning towards cleaner technologies and promoting electrification in transportation, ComEd is helping pave the way to healthier communities and helping those communities take advantage of opportunities to further create a cleaner, brighter future for generations to come.