Michelle Gonzalez, communications specialist at ComEd, and a member of the Organization of Latinos at Exelon (OLE) employee resource group, recently traveled to Nuevo Leon, Mexico to reconnect with her roots and practice her cultures vibrant traditions, such as the Day of the Dead.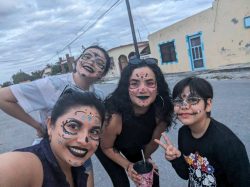 Michelle and her family united to prepare an altar dedicated to their departed loved ones. This year's celebration was especially meaningful for Michelle as it marked her first time celebrating the Day of the Dead alongside her family.
"Participating in the making of an altar gives me the chance to connect with family members I didn't have the privilege of meeting in life, such as my maternal grandfather Francisco Treviño," said Michelle. "We prepare the altar with Cempasuchil flowers and a candle to light their way, and statues of the Virgin Mary and saints to protect them in their journey back home."
The Day of the Dead, or Día de los Muertos, in Spanish, is a colorful and deeply meaningful Mexican tradition that pays tribute to departed loved ones. It is believed that on Nov. 1 and 2 the passageway between the real world and the spirit world is open so deceased loved ones can come back to visit. While the custom was first celebrated by the indigenous tribes of Mexico, including the Aztecs, it is now celebrated throughout Latin America and beyond. At ComEd, a company celebrated for its diverse workforce, this special day is not only about preserving cultural ties but also fostering understanding and appreciation among employees.
Colorful Traditions
Families celebrating Día de los Muertos often set out the favorite meals and drinks of family members who have passed away at a candlelit altar in their homes so their loved ones' spirits can find their way back to their relatives. Families sing, dance, and rejoice before their ancestors return to the underworld for another year.
Luis Gallegos, principal project manager at Exelon and OLE member, also celebrates this tradition at home in Chicago. "Day of the Dead is important to me because it is a vehicle to honor my loved ones we've lost over the years. My family honors them throughout the year as well, whether it is scheduling masses for special times of the years, such as their birthday or the anniversary of their passing," mentioned Luis. "Ultimately, it is an important way to cope with our loss. It provides a healthy way for my family to process grief by allowing us to express our feelings and connect with the spirits of our loved ones."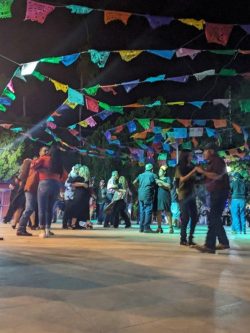 Despite its association with loss and death, Día de los Muertos is often experienced as a vibrant and joyful celebration.
"Día de los Muertos is a joyful remembrance of departed loved ones. Primarily we've promoted a joyful and festive atmosphere," said Luis. "At home, we decorate using colorful sugar skulls and marigold flowers to add to the festive atmosphere. We stand up altars, or ofrendas, with offerings of food, candles, flowers, and reminders to honor and welcome the spirits of our departed friends and family."
While Día de los Muertos celebrations share many common elements, families often have their own unique and specific traditions.
"In my family, Day of the Dead celebrations begin early on Oct. 27, which has been more recently recognized as Day of the Dead for pets – those cats, dogs, and other pets that were once part of our family," shared Michelle. "Then, on Nov. 1, during the day, we build the altar with photos of deceased loved ones and their favorite snacks and drinks, and light a candle for each person. On Nov. 2, we pray the rosary for our loved ones and for those souls that are still seeking rest. The altar is maintained for 24 hours from sunset to sunset, during which time we believe our family members come to visit us and feast."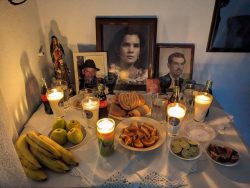 As Michelle and Luis both celebrated Día de los Muertos with their families, their participation in OLE offered the opportunity to celebrate with their colleagues as well. The holiday falls just after Hispanic Heritage Month, a month-long celebration of Hispanic and Latino culture. This year, OLE members created ofrendas for ComEd's Career Day to showcase this important aspect of their culture. It sparked interesting discussions with both ComEd employees and students who visited the event earlier in the day. Moreover, several OLE members showed their dedication by participating in Pilsen's 5K run, Carrera de los Muertos, which took place on Oct. 28. This event underscored their passion for engaging with the local community and celebrating their vibrant culture.
OLE's Día de los Muertos celebration was just one of the ways ComEd's employee resource groups provide an opportunity for employees to learn more about the cultural traditions of their colleagues. ComEd actively encourages employees to engage in ongoing discussions, workshops, and cultural events throughout the year, enabling employees to cultivate a deeper understanding of each other. This not only fosters respect and appreciation for different cultures, but also helps create a more inclusive work environment, in alignment with ComEd's DEI goals.
"Embracing such traditions is not just about paying homage to the past; it's about forging a brighter future for ComEd," said Alejandro Saldivar, manager of Support Services and president of OLE's ComEd chapter. "It's a future where ComEd employees from all walks of life come together in unity."
Michelle Gonzalez and Luis Gallegos are two of many ComEd employees who celebrate Día de los Muertos. Knowing their stories play an instrumental role in promoting cultural understanding, celebrating diversity, and fortifying bonds across ComEd.