Advancing Clean Energy
ComEd Creates Access and Opportunity for Diverse and Minority Owned Small Businesses
March 22, 2022
In March 2020, COVID-19 swept through the United States, threatening the health of millions and causing the greatest economic devastation since the Great Depression. As a result, many small businesses—especially minority owned businesses—were severely impaired and struggled to remain afloat. In response, ComEd acted on its commitment to lift communities  by launching the  ComEd® Diverse Energy Efficiency Service Provider (EESP) Incubator Program.
The Diverse EESP Incubator Program provides minority-, women-, LGBTQ-, disabled person-, and veteran-owned contractors with the tools necessary to build/expand energy efficiency offerings. The program, which offers education and training about ComEd's Energy Efficiency Portfolio resources provides:
one-on-one assistance with certification applications
support to develop business growth plans
assistance in identifying project financing resources
networking opportunities in the energy efficiency field
In addition, the program team works to identify, address, and resolve barriers to building a successful diverse business in energy efficiency.
The Graduate
Ramon Hayes, small business owner of Eco-Energy Solutions—a service-disabled veteran-owned business (SDVOB)—participated in ComEd's first Diverse EESP Incubator Program session. Ramon reported that prior to joining the program, he had a limited number of clients and primarily relied on one contract to keep his business' doors open.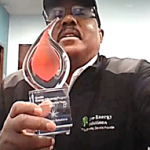 The EESP team worked one-on-one with Ramon to help him develop business growth plans and arranged for him to meet industry professionals through networking events.
"The Incubator program was really instrumental in allowing me networking opportunities and in putting me in front of major players in the Energy Efficiency space," said Ramon. "It's actually really simple. There is no way that I would be doing the volume of business that I am doing, had I not gone through the Incubator program."
 "We know a big key to serving our customers in our communities is our diversity—and that is true for our service provider network too," said Brady Bedeker, business operations, energy efficiency manager with ComEd. "Diverse service providers bring a host of perspectives and backgrounds, informing and shaping our programs and our offering award-winning services to our customers."
Upon completion of the program, graduates will be eligible to join the Energy Efficiency Service Provider network of contractors, distributors and engineering and design firms to help raise awareness of the energy efficiency program. Participating Service Providers represent the ComEd Energy Efficiency portfolio and work with ComEd customers to help them receive rebates, discounts and incentives for the successful completion of energy efficiency projects.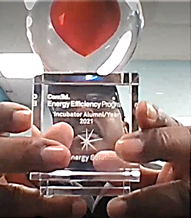 "My proudest moment, since being in the Incubator program, is Eco-Energy Solutions winning an award for production from ComEd's Energy Efficiency Program. We are probably going to end up doing $1M in sales this year," Ramon said. "And this wouldn't be possible if it weren't for the support of ComEd and the training and networking opportunities available through the Incubator program."
His advice to future minority, small business owners participating in ComEd's Diverse EESP Incubator Program is to "Ask lots of questions, hone skills and be prepared to ramp up your business and hit-the-ground-running because upon completing the Incubator program business is likely to greatly increase."
To apply to ComEd® Diverse Energy Efficiency Service Provider (EESP) Incubator Program please visit www.diverseproviderprogram.com