Empowering Communities
ComEd Celebrates 83 Craft Trainees Taking the Next Steps Towards Careers Supporting the Grid
November 3, 2023
On Friday, October 27, three separate ComEd training graduations celebrated 83 people taking the next step in their careers. The exciting addition of 53 new line workers, 18 new crew leaders, and 12 new overhead electrical specialists in a single day, showcased how ComEd is strengthening its workforce in both numbers and skills to take on the clean energy boom.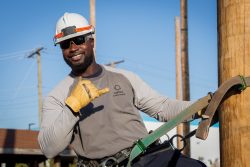 One of those grads was Michael Akinpelu, a native of the south side of Chicago, whose heart is firmly rooted in the outdoors. He jumped at the opportunity to play a role in something bigger while working outside.  "I joined ComEd as an overhead helper in 2021, and just completed my apprenticeship school last week. Now, as a journeyman, I'm excited to take on the huge responsibility of being part of the next generation of line workers," said Michael.
"We know the power grid faces new challenges, which also presents opportunities for me and my classmates to make our communities stronger and to continue providing reliable power service, no matter the weather and future conditions. While things are changing rapidly in the industry, I know the training we've received makes us up for the job."
As communities increasingly look to adopt cleaner energy alternatives, such as solar and EVs, more hands will be needed to modernize a power grid that can serve our increasingly high-tech world. A recent study commissioned by ComEd revealed that as many as 150,000 jobs will be created in Illinois by 2050 to support the state's clean energy transition.
This groundswell of new careers is not only providing community members a chance to play a unique role in combatting climate change and creating a cleaner environment for future generations but it's also providing opportunities to earn family-sustaining wages.
Last week's graduating class is part of a major expansion of trades positions led by ComEd to prepare its grid for the future. So far in 2023, over 300 employees have completed their apprenticeship programs, with more expected to graduate by the end of the year. In the face of the growing need for trades workers, ComEd is doubling down on expanding apprenticeship and job training opportunities through partnerships with communities and trades labor and workforce agencies, to bring about a skilled and diverse talent pipeline that will be needed for the future.
"The energy space is experiencing a pivotal moment, with all eyes on the power grid to support new technology and investments needed to protect against severe weather, which is calling for the creation of new well-paying trades roles for our communities," said Chris Riser, the president, business manager, and financial secretary for IBEW Local 15.  "IBEW is proud to work with ComEd in expanding apprenticeship pathways that will help more area residents join the calling and play a role in supporting the clean energy transition that our communities and local economy both depend upon."
Entry-level craft roles at ComEd, such as the overhead helper position, start at $29 an hour, on average. Opportunities such as these can make a difference in a person's life, which is why ComEd is committed to ensuring that planned growth and the jobs it will fuel will bring a benefit to the diverse communities it serves and is expanding access to skills training programs that can give more residents a leg up. In fact, this year, the company saw one of the most diverse recruiting classes for craft roles – 46% diverse — which is more than double the makeup of past year classes.
"ComEd's trades personnel – including line workers, construction workers and those who maintain our substations and underground infrastructure – are critical to our mission of powering lives for 9 million people in northern Illinois," said Neena Hemmady, VP of support services, overseeing training and methods. "These dedicated men and women will play a vital role in our efforts to bring safe, clean and reliable power to communities, and will be essential as more talent will be needed to prepare the grid for the growing threat of climate change and other factors. We've designed our training programs to reach more people from our communities with an interest in energy and bettering their communities and to, above all else, ensure they can perform their jobs safely and efficiently on day one."
The majority of Friday's graduates include those completing overhead apprenticeship school – with 53 graduates from across Rockford, Chicago and Joliet wrapping up requirements needed to perform work independently as a line worker. Also graduating: the Crew Leader Academy celebrated 18 new promotions, the highest possible level electrical craft employees who ensure the safety and performance of line crews; and 12 overhead electrical specialists who serve primarily as first responders to power restoration assignments.
"It feels amazing to have come this far when only a few years ago I had no idea these jobs existed. Since I started at ComEd, my family has expressed how proud they are of me, and today's graduation ceremony was just the cherry on top," said Michael. "My three kids now see their father doing important work and, at the same time, I'm able to comfortably take care of them. This new career is adding value to both the world and my family."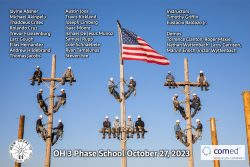 This is only the beginning. ComEd is on track to filling hundreds more craft roles in the short term. Training classes are conducted year-round, and another group of overhead helper positions will be posted in early 2024. In the meantime, learn more about ComEd workforce training programs at comed.com/cleanenergyjobs.