Empowering Communities
ComEd Awards a Diverse Group of 15 Training Grads Full Rides to Dawson Tech
July 21, 2023
Fifteen recent graduates of ComEd's two workforce training programs— the CONSTRUCT Infrastructure Academy and the Craft Academy — are set to take their careers to the next level at Dawson Technical Institute with the help of ComEd. A $5,500 award from ComEd will help workforce trainees move to the Dawson Tech Overhead Electrical Lineworker (OELW) program, an intensive 5-month certification program offered by the City Colleges of Chicago (CCC) for local residents interested in utility linework.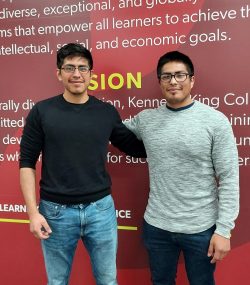 Brothers Carlos and Ivan Gutierrez both graduated from ComEd's CONSTRUCT Infrastructure Academy in late April where they were exposed to utility and construction jobs for 11 weeks. As they underwent the training required for entry-level positions in the industry, they learned about the Dawson OELW program and how it prepares trainees for positions in public utility, private electrical distribution, and cable.
"We're so excited to get more experience, get used to heights, and take advantage of the new opportunities that come with getting all the necessary training and certifications," said Carlos Gutierrez, CONSTRUCT grad and Dawson scholar. "I feel grateful that both my brother and I get to benefit from this program. It's such a blessing receiving this much support to allow us to follow a path towards stable, well-paying jobs."
ComEd's scholarship program will help more prospective utility workers get a leg up on their required training, while addressing the soaring demand for electricians to support the clean energy transformation in Illinois. Students of the program look forward to an OSHA 10-Hour Construction Worker Safety, Flagger and CPR certification, an attractive qualification for future employers. For the past 16 years, the OELW program, launched in partnership by CCC and ComEd, has been helping line workers obtain the certifications needed to advance their careers. Since 2007, ComEd has hired more than 300 out of the 465 Dawson program graduates.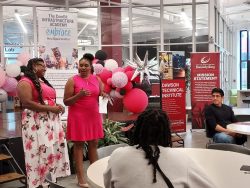 "The training program is rigorous, but we will be with them every step of the way. Although the course is five months and students undergo unique physical training, challenging electrical courses, and develop strict discipline around safety techniques, it's all worth it." said Inesha Kelly, Dean at Dawson Technical Institute. "By the end of the program, they'll earn an electrical industry recognized certification which will land them family-sustaining salaries as professional lineworkers. This program is amazing because it's a short-term sacrifice for a long-term reward that can put you on an upward mobility track."
In addition to the scholarship, ComEd is also awarding recipients stipends of up to $1,000 to cover the cost of other education expenses. ComEd scholarship programs are a key component of the ongoing effort to build a skilled and diverse talent pipeline in anticipation of the growing number of jobs needed to power the grid. A recent study commissioned by ComEd reveals that the clean energy transition in Illinois will create as many as 150,000 jobs by 2050. Hiring is underway by ComEd to fill hundreds of newly created entry-level lineworker and field positions.
"We're thrilled to continue our longstanding partnership with the City Colleges of Chicago to equip our diverse communities with the tools needed to reach their goals and support the workforce pipeline expansion for the clean energy jobs of the future," said Laticia Holbert, Workforce Development Manager at ComEd. "ComEd is committed to ensuring our team reflects the diversity and talent of the communities that we proudly serve, and programs like these are giving more area women, people of color, and adults looking for new career pathways a chance to break through into exciting energy and trades roles."
Fourteen of the fifteen awardees are from underrepresented groups, allowing ComEd to continue its commitment to representing the racial and ethnic vibrancy of our service territory. The awardees include four women, and participants range in age from their 20s to their 40s. Roles in science, technology, engineering, and math have historically lacked diversity and representation of women and minorities – that's why ComEd is working to change this through expanded community outreach and partnerships.
CCC is still accepting applications for the next cohort of OELW trainees, which begins in September. Anyone 18 or older interested in applying for this fall's Dawson OELW program, can find more information here.