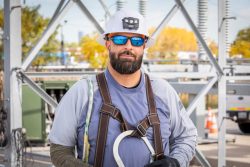 Chris Tunzi has overcome remarkable odds in the challenging domain of utility work. Born without a right hand, Chris joined ComEd's Transmission & Substation (T&S) Services team as a mechanic, demonstrating that one's abilities are far more powerful than any perceived limitations.
"I wore a prosthetic up until the fourth grade," said Chris. "One day, I decided I wanted to do everyday tasks without it. I haven't looked back."
Chris has carried that can-do attitude through life, including during his career at ComEd. He said, "I've learned to adapt to new things and my surroundings. I've tried my best to overcome any obstacles that have been thrown my way."
Chris' example is just one of the invaluable contributions of America's workers with disabilities, both past and present. This month, during National Disability Employment Awareness Month (NDEAM) ComEd proudly showcases these employees and the supportive, inclusive policies and practices put in place by ComEd to benefit all employees.
Breaking Barriers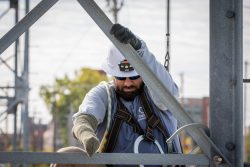 Not every path has been easy. One significant test Chris faced was the 5-day qualifier at ComEd. This test involved climbing steel structures, performing grounding and aerial work, and assembling lighting arrestors while harnessed in place.
"I'd never climbed before, so it was interesting how I had to figure out how to climb with only one hand," Chris recalls. Through determination and creative problem-solving, he developed his unique approach to climbing, impressing not only himself but everyone around him. This achievement paved the way for his advancement within the company.
Tyrone Davis, Chris' manager in T&S, has observed his exceptional leadership qualities. "He's one of my more senior mechanics and takes the initiative to be a leader amongst his peers," said Tyrone. "In my almost six years of working with Chris, he has not allowed his need for accommodations to limit his work ethic. I cannot recall an assignment given to Chris that he has not been able to complete," he adds.
Chris thrives on working with diverse people daily and learning new things. He enjoys teaching at the demo school, where he helps new candidates understand the skills needed to perform various tasks. His advice to others: "Always be willing to learn new skills, participate as much as possible, and maintain a positive attitude. Find something that genuinely interests you and connect with it. Never settle and trust your instincts."
ComEd Embracing All Abilities.
"ComEd is committed to fostering a respectful and inclusive workforce, workplace, and community where people from all backgrounds and identities feel valued, are empowered to contribute and have the means to succeed," said Saira Raja, principal DEI programs manager at ComEd. "As part of our commitment to creating an inclusive work environment for all employees, including those with disabilities, we're proud to recognize NDEAM annually across our family of companies," added Saira.
Chris adds, "From executive leadership to my manager, there is a recurring message that says our diversity makes us stronger as a company. Diversity at ComEd is not limited to skin color but encompasses everything that makes us unique as individuals, enabling us to become one of the strongest utilities in the nation."
By shedding light on the achievements and stories of employees like Chris, ComEd aims to not only celebrate their accomplishments but also inspire others to recognize the immense potential within themselves and their colleagues. To learn more about career opportunities at ComEd, visit, comed.com/careers.