Driving Innovation
Blast from the past: ComEd discovers 33-year-old time capsule
October 6, 2020
After completing the renovation of ComEd's Chicago North Regional Headquarters building in 2019, plans began to demolish the 90-year-old structure and replace it with a state-of-the-art facility. During the demolition, an unusual box was found – a time capsule dating back to 1987.
At that time, almost 35 years ago, ComEd was celebrating its 100th year of existence and James J. O'Connor, chairman and CEO of the company, advised that each office should celebrate the company's centennial with an event. 
William J. Cormack, vice president of the Chicago North Division, put John Maxson, now a ComEd retiree, in charge of organizing the event at the Chicago North office. As part of the celebration, Maxson created a time capsule to be placed behind a plaque in the brick wall. An eagle sculpture, saved from a previous demolition in the 1980s and sitting in storage, was placed next to the capsule. It was given the name "Centennial Eagle" in honor of the anniversary.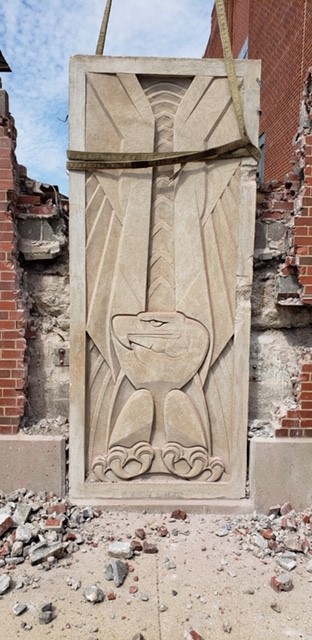 The Centennial Eagle sculpture​
"I solicited items to put in the box from employees and public officials," Maxson said. "I built the box myself and had several bricks behind the plaque chipped out where the box was installed."
Items in the time capsule included items from that year: magazines, newspapers, books, a toy truck, and party favors that were given to employees at the celebration including a t-shirt, mug and medallion.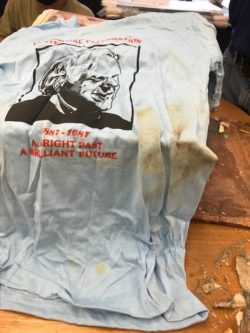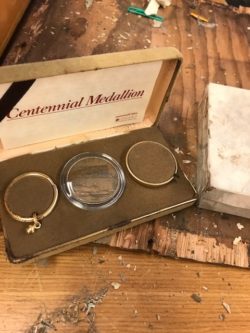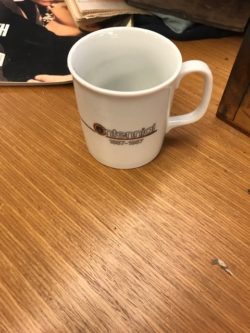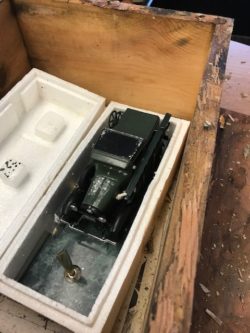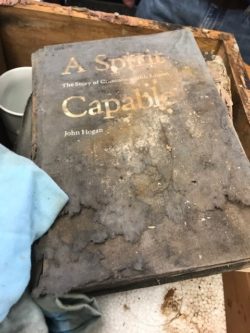 Items found in the time capsule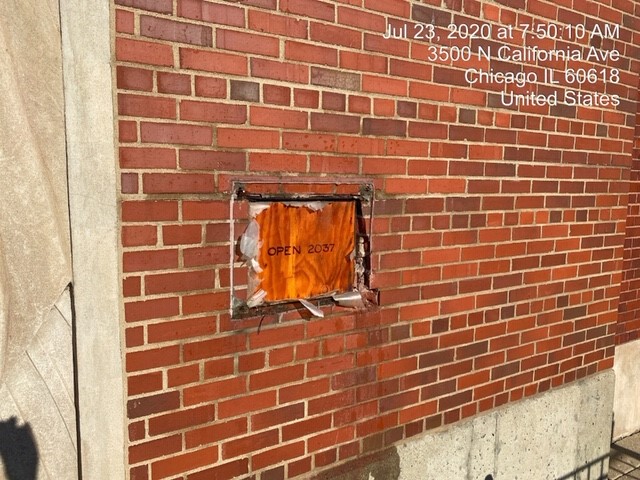 The time capsule in the brick wall
The event, a day-long celebration attended by hundreds of employees and their families, included live performances by bands, the Jesse White Tumblers, a helicopter landing, bucket truck rides and, of course, placement of the Centennial Eagle and time capsule to commemorate the occasion.
"This was a true celebration honoring 100 years of progress and employee service," he said. "It was a great experience and a memorable day."
According to Maxson, the time capsule was not expected to be found so soon. After learning it was discovered, he reflected on progress the company has made since the capsule was created.
"When we installed the time capsule in 1987, there was no internet, no GPS, no laptops, and none of the software that is taken for granted to run the company today," Maxson said. "After hearing about the discovery of the capsule, I realize time moves quickly and the company and industry have advanced and changed dramatically."
Plans are in place to display the Centennial Eagle in the new Chicago North building.