Although April has left its showers, it brought us May flowers and a number of great achievements that ComEd employees made during National Volunteer Month.
At ComEd, volunteering is deeply rooted in our company culture. As we continue to move forward with ComEd 2030 vision, we are reinforcing our commitment to supporting the communities we serve through company volunteering efforts.
In April alone, ComEd logged over 1,800 volunteer hours and participated in 36 events across northern Illinois to support many organizations during National Volunteer Month.
ComEd employees supported community organizations including Meals on Wheels, Brookfield Zoo, Rowe-Clark Math and Science Academy, Erie Neighborhood House, El Valor, Feed My Starving Children, and many more.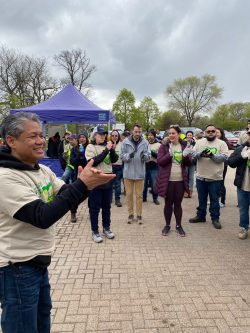 "I'm proud to be part of an organization where giving back to our communities is ingrained in our culture and not limited to one month," said Gil Quiniones, ComEd CEO. "This year, ComEd employees supported several community organizations and together we will make a difference by continuing to care for our community members."
Our commitment to serving our communities goes further
One of the biggest ways we will continue to make a collective impact is through our Cause of the Year efforts. This year, after having the opportunity to vote for one of several worthy causes, ComEd employees chose to support the Alzheimer's Association.
Alzheimer's disease is a brain disorder that slowly destroys memory and thinking skills and, eventually, the ability to carry out the simplest tasks. For most people with Alzheimer's, symptoms first appear later in life. Estimates vary, but experts suggest that more than six million Americans, most of them age 65 or older, may have Alzheimer's. Alzheimer's is currently ranked as the seventh leading cause of death in the United States and is the most common cause of dementia among older adults.
Along with many efforts that ComEd is partnering on with the Alzheimer Association, employees will be supporting the annual Chicago and DuPage Walk to End Alzheimer's events, which has been in place for over a decade. ComEd is very excited to pledge to this cause with the support from our team.
While April was National Volunteer Month, ComEd and its more than 6,300 employees are committed to continuing the momentum of volunteerism throughout the year. It is our mission to positively impact the communities we're privileged to serve. We encourage you to do the same. Volunteer for a cause that means something to you.