Meeting future energy needs while protecting the environment is fundamental to creating a brighter future for customers and communities. At ComEd, customers have more choices than ever before in receiving reliable, clean, affordable and innovative energy products, and ComEd is committed to driving that progress.
To further these efforts, ComEd converged with community leaders in Rockford to announce the expansion of ComEd's Community of the Future (COF) program to the Rockford area.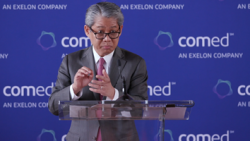 "ComEd takes pride in working with local communities to help address our shared challenges and improve the quality of life for the people we're privileged to serve," said ComEd CEO Gil Quiniones.
ComEd's Community of the Future is an approach to innovation that is actively guided by ongoing partnerships. Through these community partnerships, ComEd ensures that advanced technology demonstrations are grounded in community engagement that seeks to identify and address community needs, resulting in environmental sustainability; community safety; enhanced job and business growth; more reliable and resilient power; and greater access to resources that improve residents' quality of life.
"That's a true partnership that's good for the environment, it's good for our city, but most importantly, it's good for the people."—Rockford Mayor Tom McNamara
Within a Community of the Future (CoF), ComEd leverages innovative information and communication technologies, enhancing the environmental and economic sustainability of local institutions to make the holistic community more resilient.
"We are proud to be named a Community of the Future by ComEd," said McNamara. "ComEd continues to be an outstanding community partner, and we're looking forward to this new distinction bringing more saving, sustainability and innovation to Rockford."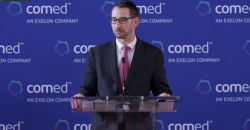 Rockford is the second Community of the Future launched by ComEd—with a similar program in Chicago's Bronzeville neighborhood that began in 2016. ComEd is excited to begin collaborating in Rockford to champion a new wave of innovative initiatives.
"Together, we will help identify and leverage community strengths and match them with the appropriate advanced technologies that are tailored to address the needs of this vibrant community," said Gil.