A guest post by Cheryl Maletich, ComEd senior vice president of transmission and substation
Cheryl Maletich started her career at ComEd in distribution engineering after graduating from college. Almost 30 years later, and now the company's senior vice president of transmission and substation, Maletich says she "grew up" at ComEd and likes being able to see how the work she and her team do every day impacts customers. 
What is your proudest moment while working at ComEd?
Maletich
: It's hard to pick just one. But the times I am most proud of is when we are recovering from a severe storm or challenging event. I'm always proud to see ComEd employees come together when the chips are down and people need us the most.
What do you find most challenging about your job?
Maletich: I'm in a new role with 1,200 people in my department, spread out across northern Illinois. So, for me, the most challenging thing is not being able to get face time with people in my organization as a result of COVID-19. I am a people-focused person, so learning new ways I can still build those relationships virtually is different than what I am used to doing.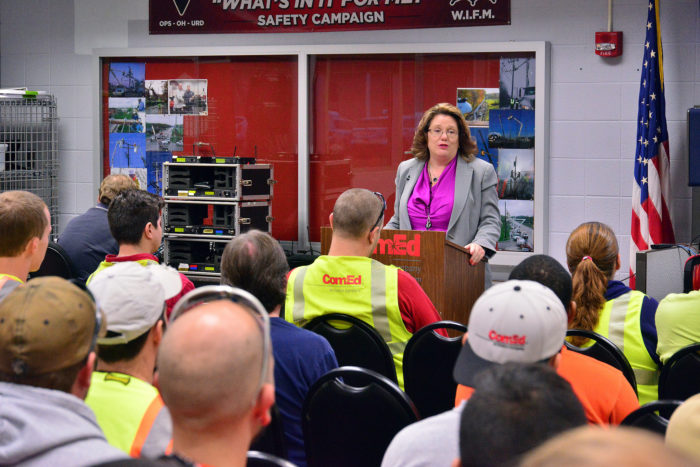 What makes ComEd employees go the extra mile to overcome challenges?
Maletich: When something has happened like a severe storm or disaster, there is an overwhelming sense of teamwork in this company to safely get the job done for our customers. It's the culture of who we are at ComEd. It's all focused on powering our customers and communities.  
What do you like most about working at ComEd?
Maletich: This was an easy one – the people. I've worked here for 29 years, and as I've gone through my career, I've met people who have taught, mentored and supported me as I worked up to the point where I am now. Some of my best friends are the people I've met within these walls. I grew up at ComEd. I graduated from college and have been here ever since, which is a true reflection of the company.
What has been an unforgettable experience?
Maletich: Willis Tower after the flood. It was such a special moment when I first saw the lights come on after four days of being on the scene. Over 300 ComEd employees were involved in the restoration. Seeing all these departments come together to work towards one common goal in getting the power on safely, was something I'll never forget.
What do you tell people when they ask what it's like to work at ComEd?
Maletich: The work isn't easy, but you get a huge sense of accomplishment for what you do. You get to see how your job impacts the customers we serve and support. At the same time, it also goes beyond the work. ComEd is committed to volunteering and supporting the community. One other thing that is unique about this company is that we always have a line of sight for continuous improvement and look for ways we can and do better.
What do you value about ComEd?
Maletich: The company's commitment to diversity and inclusion. With the recent events, ComEd hasn't taken a backseat and has spoken out. Having those conversations makes us stronger as a company and brings us together to better understand different perspectives. Diversity and inclusion help drive teamwork, commitment and most importantly, growth.